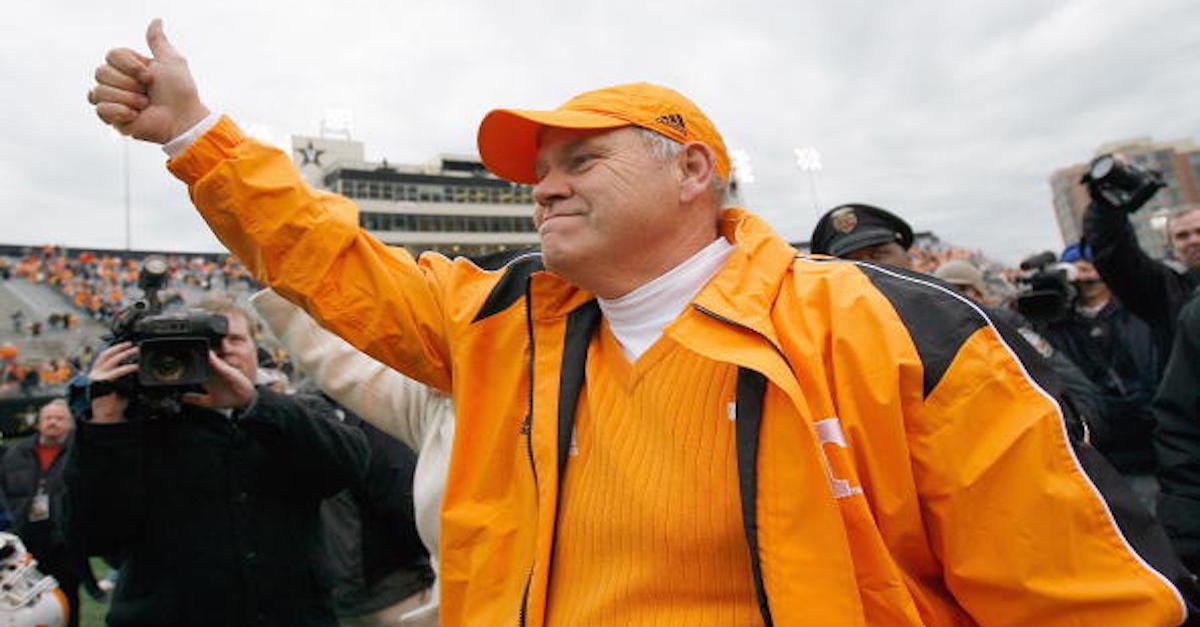 Kevin C. Cox/Getty Images
NASHVILLE, TN - NOVEMBER 22: Head coach Phillip Fulmer of the Tennessee Volunteers gives a thumbs up after winning the game against the Vanderbilt Commodores at Vanderbilt Stadium on November 22, 2008 in Nashville, North Carolina. (Photo by Kevin C. Cox/Getty Images)
Phillip Fulmer needs no introduction around the University of Tennessee, though he did receive a formal one from the Volunteers' athletic department upon the announcement of his new role.
Fulmer, the legendary college football coach, has been named special advisor to Tennessee President Joe DiPietro. While his title is advisor, the press release made it clear that he'll also be an ambassador for the University at community and athletic events around the state. He'll also have a say in university politics as well, working with UT government relations and alumni affairs.
?This is a special opportunity for me. I?ve had the chance to work with Dr. DiPietro for a couple of years in a volunteer capacity, and I was excited when he approached me with this position,? Fulmer said via the Tennessee press release. ?I look forward to serving UT campuses statewide, our communities, and UT athletics for the greater good for our great state and the university.?
In terms of advocacy and ambassadorship for the University as well as the athletic department, there's perhaps no better fit than Fulmer. He graduated from Tennessee in 1972 after playing as a guard on the football team. In 1980, he returned to the school as an assistant football coach and 12 years later he was named head coach of the Vols.
In 17 years as head coach of Tennessee football, Fulmer racked up an astounding 151-52 overall record. He won the BCS National Championship in 1998, off the strength of an undefeated 13-0 season, and he won two conference championships and seven division titles. He won three coach of the year awards and the SEC coach of the year award in that 1998 season. He coached eight All-Americans, including Eric Berry (2008) and Peyton Manning (1997), and was inducted into the College Football Hall of Fame in 2012.
The transition into the role of advisor should be a smooth one for Fulmer. Not only is he basically synonymous with the University, but he's volunteered on the President's Council since 2015. In fact, in 2016, he was awarded for his efforts on that council, so having him as an advisor to President DiPietro should be a natural fit for UT.
?As a native Tennessean who has given his all for the Vols throughout his life, both as a student-athlete on the field and during a Hall of Fame coaching career leading our program to its most dominant and successful era in modern history, Coach Fulmer is a perfect ambassador for our University and athletics program,? University of Tennessee Knoxville Vice Chancellor/Athletic Director John Currie said, via the press release.
That's tough to argue.