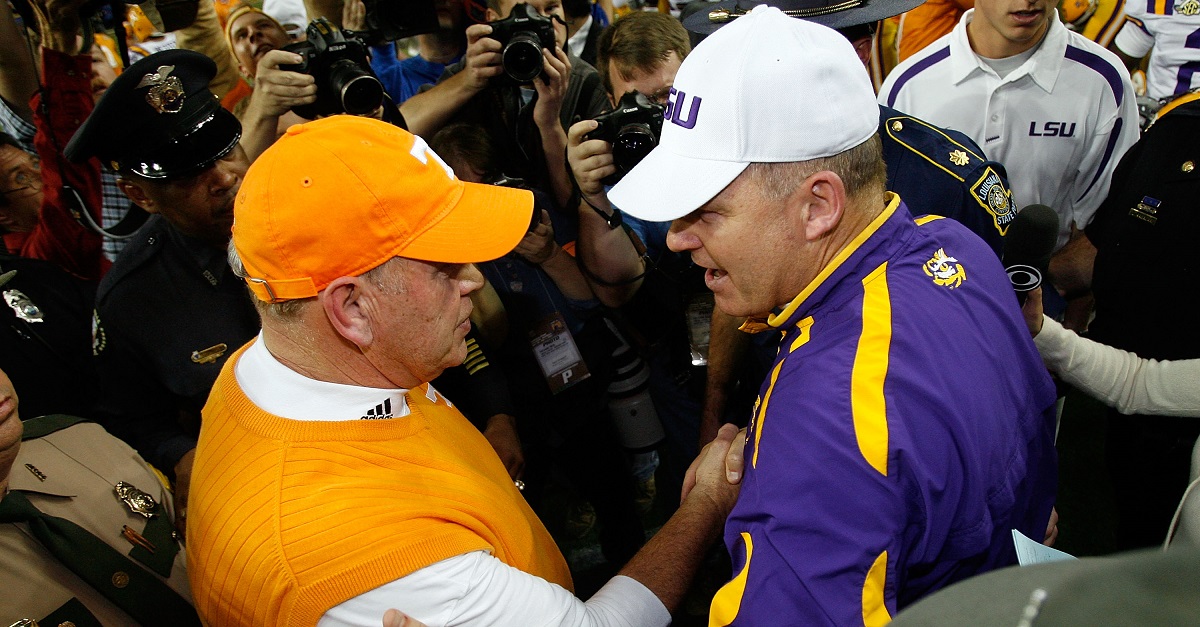 Chris Graythen/Getty Images
ATLANTA - DECEMBER 01: Head coach Les Miles (R) of the Louisiana State University Tigers is congratulated by head coach Phillip Fulmer of the University of Tennessee Volunteers following the SEC Championship game on December 1, 2007 at the Georgia Dome in Atlanta, Georgia. (Photo by Chris Graythen/Getty Images)
Tennessee has known for some time now that it needs to find a new athletic director as Dave Hart is retiring on June 30. It has been reportedly looking at several candidates and it looks like the Volunteers might have narrowed it down to two with one of them being the school's second greatest — or even arguably its best — coach in Phillip Fulmer.
RELATED: Phillip Fulmer reportedly nearing deal to return to college ranks
According to John Brice of Vols247, the Vols have Fulmer and Chattanooga athletic director David Blackburn as their top two candidates for the job. Blackburn has long been rumored to be the favorite considering his history with the school as an administrator. Per Brice, three to five candidates will be interviewed for the opening with the interview process expected to begin soon.
RELATED: Tennessee inexplicably waiting to make crucial hire
That same report is saying that if Blackburn does get the job he would try to bring on Fulmer in some capacity and wants to get a part of Neyland Stadium or the field named after him. However, if Fulmer were to get the job then Blackburn would be likely to stay at Chattanooga since it wouldn't make sense for him to take a demotion even if it is at Tennessee.
Fulmer was the last coach to win a BCS national title and an SEC title at the school back in 1998. He left the school in 2008 just one year after the Volunteers' last SEC East title in 2007.
[h/t SEC Country]