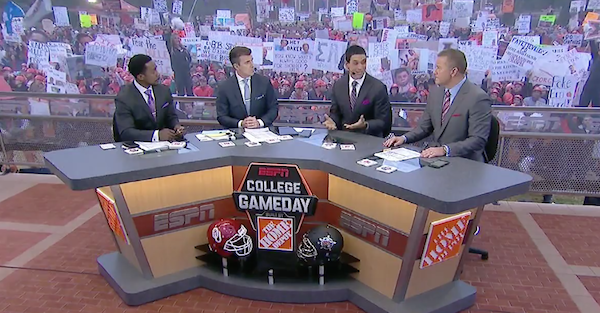 ESPN College GameDay Clippit/Screenshot
ESPN College GameDay Clippit/Screenshot
Here's an example of a tweet that did not age well.
Tennessee fan and Twitter user @__LittleBuddy found and retweeted ESPN College GameDay host Rece Davis' tweet from the day Butch Jones was hired by the Vols, which included several takes that seem ridiculous in hindsight.
The GameDay host called Jones a "good coach" and vowed that if Twitter was "still the rage" three years later, he'd bet that Tennessee fans wouldn't be tweeting "venom."
I just…I don't know where to start with this. Granted, it's five years later and Jones was much more popular in his third season, but there were still plenty of Tennessee fans that had already jumped off the "brick by brick" bandwagon.
Still, the fact that Davis not only predicted the coach would be celebrated, but also questioned whether Twitter itself would continue to exist seems hilarious in hindsight.
Naturally, I decided to jump in on the fun and share it with my followers, as well as the popular account, @OldTakesExposed, which got plenty of attention.
Either way, I meant no disrespect to Davis, who is great at what he does regardless of this take that many other media members seemed to share during the hire. Sorry Rece, here's an olive branch.
Still, considering how Tennessee Twitter has yearned for Jones' termination this season, Davis' take couldn't have been any colder.
UPDATE:
Apparently we're cool. Shoutout to Rece.