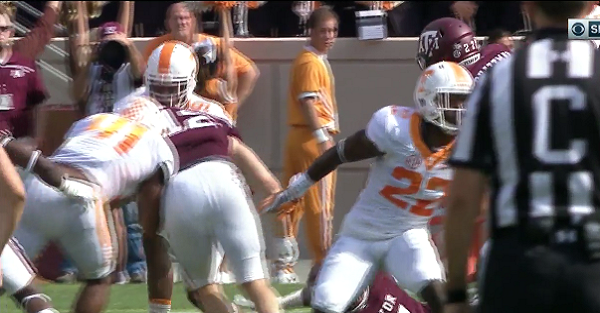 Clippit/rajprashad
Tennessee has shot itself in the foot several times during the Texas A&M game. Defensive back Nigel Warrior was ejected for absolutely annihilating Aggies 12th man Cullen Gillaspia. Warrior went out of his way to go after Gillaspia because he put a nasty hit on Evan Berry on a Tennessee kick return earlier in the game.
RELATED: Tennessee player destroys Aggies 12th man and gets ejected for it
The hit did not look to be clean at all as Gillaspia not only led with his helmet, but caught Berry right under the chin strap.
There was no flag for that hit and that has made some Vols fans pretty upset.
I would be angry too since the fumble led to a score for the Aggies and has given them a ton of momentum in this game.
[h/t Saturday Down South]