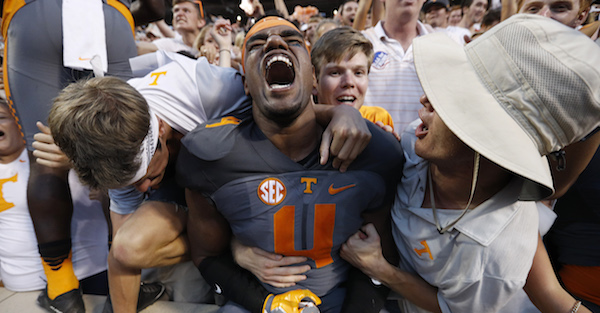 Joe Robbins/Getty Images
KNOXVILLE, TN - SEPTEMBER 24: LaTroy Lewis #4 of the Tennessee Volunteers celebrates with fans after the Vols defeated the Florida Gators 38-28 at Neyland Stadium on September 24, 2016 in Knoxville, Tennessee. (Photo by Joe Robbins/Getty Images)
Tennessee reportedly plans to stop wearing the "smokey grey" jerseys that debuted under Butch Jones' tenure, instead sticking to the traditional orange and white, all orange and all white combinations and will only wear black cleats, sources confirmed to FOX Sports Knoxville.
The jerseys debuted during the Vols' game against Georgia in 2013. Tennessee wore the "smokey greys" in each of its last three home games against Georgia, its 2013 home game against Vanderbilt, its 2016 victory over Florida and during the 2016 Music City Bowl against Nebraska, totaling a 3-3 record.
FanBuzz's Take
You know what? I'm all for it. I think?
Not to sound like an old man yelling at a cloud, but I think this decision provides more positives than negatives. Yeah, the smokey greys were cool for like — what — two quarters?
I know there are purists that absolutely hate the idea of the Vols wearing anything but their traditional orange and white threads, but I won't go that far.
I'm more against the Butch Jones-esque gimmicks than anything. I don't want to see anything that resembles "brick by brick" or moral victories in this culture change of the Tennessee football program.
The Vols don't need to rely on gimmicks anymore. Hopefully the coaching and on-field talent will be enough to gain the attention of recruits, rather than "smokey grey" jerseys.
If Jeremy Pruitt wants to stick with tradition, then I say let's stick with tradition! As long as it's different than the previous regime.