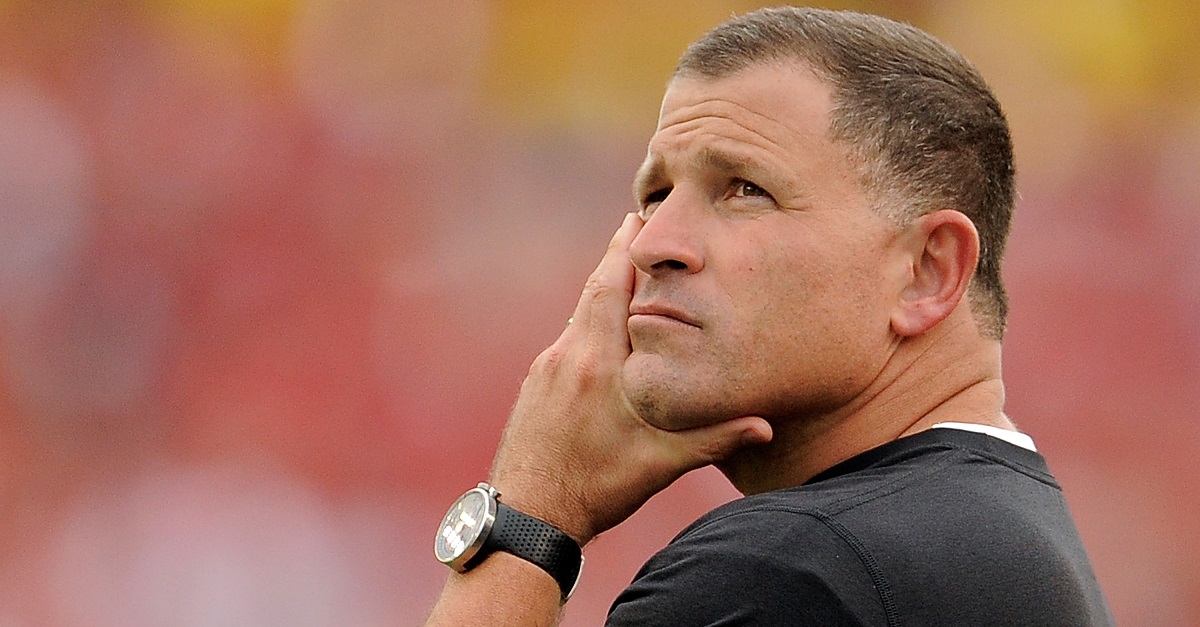 Stacy Revere/Getty Images
TAMPA, FL - DECEMBER 15: Greg Schiano, head coach of the Tampa Bay Buccaneers, watches the action during a game against the San Francisco 49ers at Raymond James Stadium on December 15, 2013 in Tampa, Florida. San Francisco won the game 33-14. (Photo by Stacy Revere/Getty Images)
Tennessee's memorandum of understanding signed by former athletic director John Currie and would-be head coach Greg Schiano was received with negativity from most Vol fans.
However, one alumni was apparently much more optimistic about the potential hire — former quarterback and current USC offensive coordinator Tee Martin.
Martin spoke with media members on Wednesday prior to the Trojans' Cotton Bowl game against Ohio State — where Schiano currently serves as defensive coordinator — and discussed the reported hiring and subsequent fan protest.
"It was a tough deal," Martin said. "I have a lot of respect for Greg and what he's done over his career as a football coach. When that name came up I thought 'Wow, that's a really good football coach.' It would've been a good fit."
Schiano also spoke to the media on Wednesday, but declined to comment on the Tennessee situation, claiming he would address it at a later date but didn't want it to be a distraction heading into the Buckeyes' bowl game.
Martin also addressed his own role in Tennessee's coaching search following the botched attempted hiring of Schiano. The former quarterback was linked to the job for several weeks and was a sentimental favorite to many fans, but was overlooked as the Vols instead decided on Alabama defensive coordinator Jeremy Pruitt.
"The outpouring of support was great to see," he said. "Going into our 20-year anniversary of our national championship win, it was really good to see some of my former teammates show their support. I really appreciated that. It's always going to be a special place for me, but the timing wasn't right so we move on."
Martin reiterated that he is happy at his current position and seemingly hinted that he was never interested in taking a lateral job elsewhere.
"I'm not in a rush to leave this place," Martin said. "Whether it's Tennessee or somewhere else, it has to be the right situation. I feel like I have the best job in America that isn't the head coach at USC, being the offensive coordinator at USC."
USC will face Ohio State on Monday, January 1 at the Cotton Bowl in Arlington, Texas.