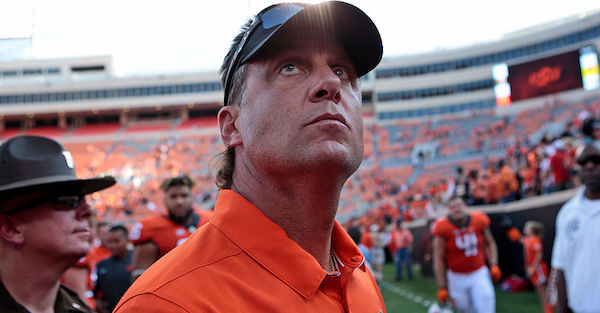 Brett Deering/Getty Images
STILLWATER, OK - SEPTEMBER 3 : Head Coach of the Oklahoma State Cowboys Mike Gundy looks across the stadium after the game against the Southeastern Louisiana Lions September 3, 2016 at Boone Pickens Stadium in Stillwater, Oklahoma. The Cowboys defeated the Lions 61-7. (Photo by Brett Deering/Getty Images)
Tennessee is reportedly targeting Oklahoma State coach Mike Gundy, but one radio analyst thinks it should focus on a former standout player.
USC Trojans Radio Network's John Jackson believes former Vol quarterback and current Trojans offensive coordinator Tee Martin deserves consideration for UT's head coaching position.
?I would tend to think if he (Martin) had someone that he trusts then he would separate play-calling from being a head coach,? Jackson told Saturday Down South in an exclusive interview on Tuesday. ?If he cannot find someone he trusts, then it?s a whole different story. It was an easy decision for Clay to hand the play-calling to Tee since he has been in the system and sat in the meeting rooms with him.

?It would be an interesting decision to see what Tee would do as far as play-calling in his first head coaching job. I would think that he would take the same approach that Clay did and see the importance of having the roles separated with having so much to deal with as a head coach, he would bring on a play-caller with him and someone he trusts. Tee has worked himself up from a wide receivers coach and understands the value of assigning responsibilities.?
Martin, who led the Vols to a BCS Championship in 1998 as the starting quarterback, has quickly risen up the ranks as a young assistant with a bright head coaching future, having been named as a Broyles Award semi-finalist on Tuesday.
The former quarterback has worked as USC?s coordinator during the past two seasons and was rumored to have gained interest from other schools as a potential head coaching candidate.
Jackson believes that Martin has the potential to be a "game-changer" as one of the nation's best recruiters and could be a surprising home run hire.
?He can be a game-changer in recruiting that instantly gives you good players and good players usually beat bad players no matter what you are doing.?
Only time will tell if Tennessee contacts its former quarterback as it continues its coaching search.