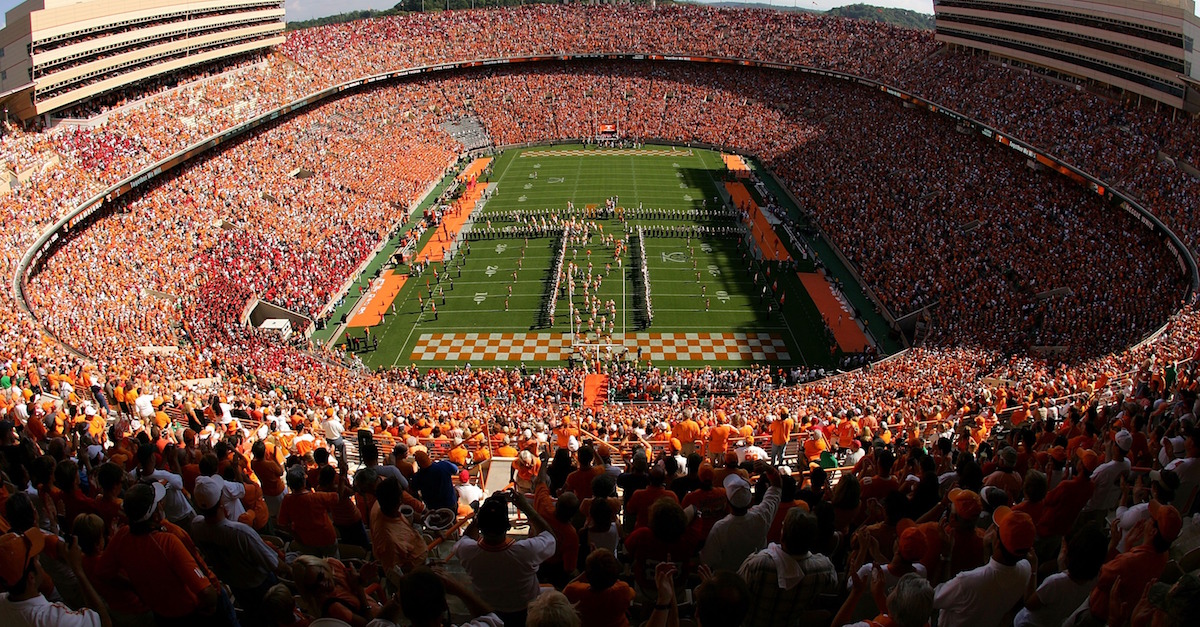 KNOXVILLE, TN - OCTOBER 06: A general view of the Tennessee Volunteers taking the field before the start of their game against the Georgia Bulldogs at Neyland Stadium on October 6, 2007 in Knoxville, Tennessee. (Photo by Streeter Lecka/Getty Images)
The University of Tennessee-Knoxville has reached a settlement in a lawsuit involving student-athletes. This ends a dispute that pitted eight young women against the football program. UT will pay the plaintiffs $2.48 million, a sum that also includes fees for their attorneys.
RELATED: Six women file federal lawsuit against Tennessee for sexual assault
School officials also agreed to the appointment of a special independent commission to review the response to sexual assaults at all universities within the UT system. Under the terms of the settlement, the university did not admit to "guilt, negligence or unlawful acts."
The plaintiffs agreed to withdraw two complaints over the university's handling of sexual assaults filed with the U.S. Department of Education's Office of Civil Rights in 2015. The women and their parents also agreed not to comment on their allegations or the settlement. However, it's unknown whether that will end the ongoing probe of possible violations of federal Title IX rules that govern how colleges and universities must respond to sexual assaults. Withdrawing a complaint does not necessarily end federal action, an Education Department spokesman said Tuesday.
RELATED: Tennessee facing federal sexual violence investigation
It is the third financial settlement involving the athletics department under the leadership of Dave Hart in two years.
The eight plaintiffs alleged that Tennessee created an environment within the athletics department, especially the football program, that led to sexual assaults and then employed a disciplinary hearing process biased in favor of athletes.
RELATED: Butch Jones called player a 'traitor' for helping alleged assault victims
The settlement means that prominent coaches including Jones, athletics director and vice chancellor Hart, outgoing Chancellor Jimmy Cheek and President Joe DiPietro will not be deposed or face questioning at a trial. That might be the biggest bullet dodged by the Tennessee staff as now the school will be able to keep the coaches without any more controversy surrounding them that a trial might have brought in.
[h/t The Tennessean]