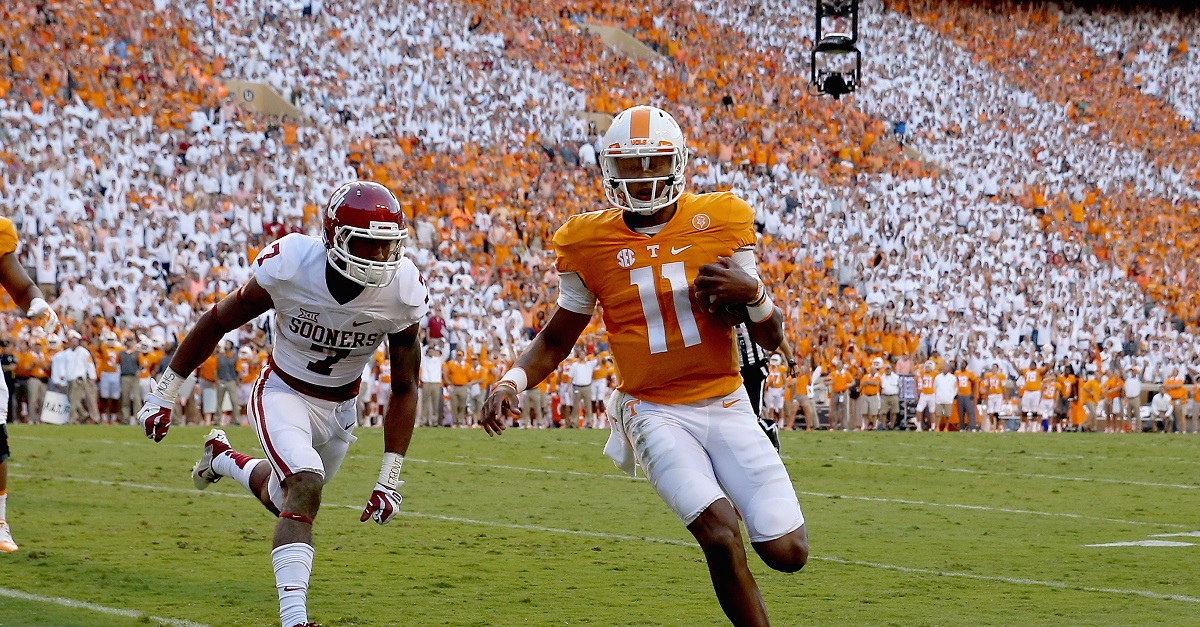 Andy Lyons/Getty Images
KNOXVILLE, TN - SEPTEMBER 12: Joshua Dobbs #11 of the Tennessee Volunteers runs for a touchdown against the Oklahoma Sooners during the game at Neyland Stadium on September 12, 2015 in Knoxville, Tennessee. (Photo by Andy Lyons/Getty Images)
The SEC's best new tradition is coming back for the third straight year as Tennessee fans will checkerboard Neyland for the Florida game this season. Checkerboard Neyland have released the results of their 2016 poll and the Florida rivalry game beat out the Alabama on October 15th by only 36 votes.
RELATED: Someone made a time-lapse of Tennessee checkering Neyland Stadium
Despite the awesome look of Neyland Stadium when checkered, some fans consider it bad luck since the Vols have lost in heartbreaking fashion both times they've done it. They lost to Florida in 2014 after leading 9-0 most of the game and suffered that horrific fourth quarter meltdown against Oklahoma last season where they led 17-0 going into the last quarter.
Regardless of how superstitious you are and how you feel about checkerboards, it's going to be an incredible setting for fans and recruits watching the game. The Vols are already anticipating the game to be one of the best in-season recruiting trips in the nation for many of the top prospects on Tennessee?s recruiting board.
[h/t Saturday Down South]