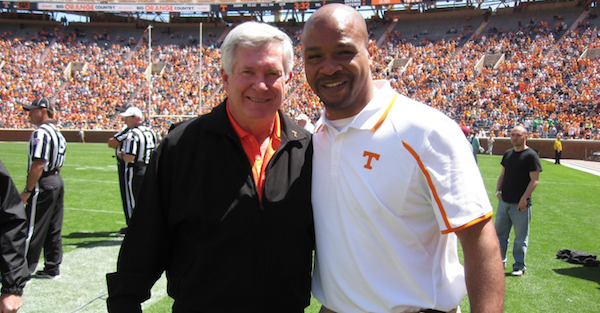 Tommy Thigpen/Twitter
Tommy Thigpen/Twitter
New Tennessee coach Jeremy Pruitt is bringing in his own coaching staff, and former assistants under Butch Jones are looking jobs elsewhere.
Former linebackers coach Tommy Thigpen is heading back to his alma mater at North Carolina to join Larry Fedora's staff. This will be Thigpen's third stint at North Carolina, and he played linebacker at the school from 1989 through 1992 where he was named to the All-ACC team.
Related: Former USC QB believes Tennessee fans 'should be happy' team didn't hire former player
Thigpen is known for being a top recruiter, and he was named the No. 10 recruiter in 2014 for Tennessee's seventh-ranked class, according to 247Sports.
Thigpen was an assistant at Auburn before joining the staff at Tennessee. He coached safeties and linebackers at Auburn, and he coached linebackers at North Carolina and Illinois before his stop on the Plains.
He also coached at Bowling Green and Tennessee State.
North Carolina is currently ranked 36th in recruiting according to 247Sports, so Thigpen's recruiting prowess is definitely needed in Chapel Hill.