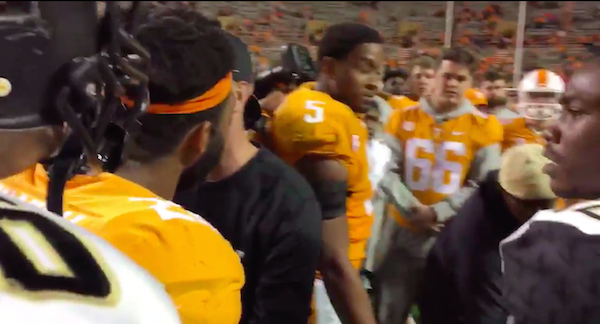 @JDnumba3/Twitter
@JDnumba3/Twitter
As if Tennessee's 42-24 loss to Vanderbilt wasn't ugly enough, a fight nearly ensued at midfield after the game between players of both teams.
Vols defensive back Micah Abernathy and several teammates were captured on video stopping stopping a group of Commodores from planting a Vandy flag on the 50-yard-line at Neyland Stadium.
Abernathy is captured using several expletives directed at the Vanderbilt players before the flag is taken away by a member of Tennessee's athletic program.
The incident continued a recent trend of college football players planting flags in the middle of opponent's fields after big victories, as infamously started by Oklahoma quarterback Baker Mayfield during the Sooners' victory at Ohio State earlier this season.
Of course, tensions were high for the Vols, who lost their eighth game of the 2017 season on Saturday, which marked their worst finish in program history.