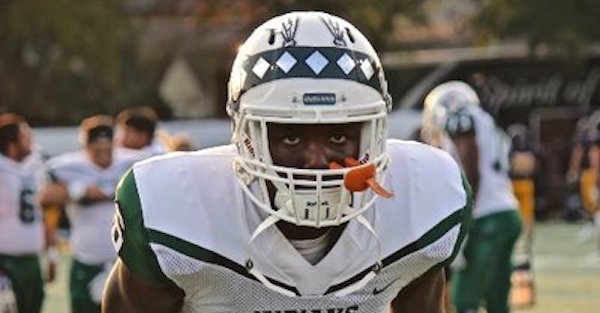 @therealdemani/Twitter
@therealdemani/Twitter
Four-star safety Demani Richardson committed to Texas A&M during his junior day visit to College Station on Saturday, as initially reported by 247Sports.
Richardson confirmed the report by sharing his announcement on Twitter shortly after, as well as retweeting several posts regarding his pledge to A&M.
The 6-foot-2, 205-pound defensive back made his second trip to College Station in the span of a month on Saturday.
A&M received 43 percent of 247Sports' Crystal Ball predictions to land Richardson, while Texas was second with 29 percent.
The Waxahachie native ranks as the No. 6 safety, No. 19 player from the state of Texas and the No. 140 overall prospect for the 2019 national recruiting cycle, according to the 247Sports Composite.
Richardson recorded three interceptions, as well as 516 rushing yards, 286 receiving yards on 12 catches and 11 offensive touchdowns, according to 247Sports.
A&M currently has seven commitments for its 2019 recruiting class including five-star safety Brian Williams and four-star cornerback Bobby Wolfe.