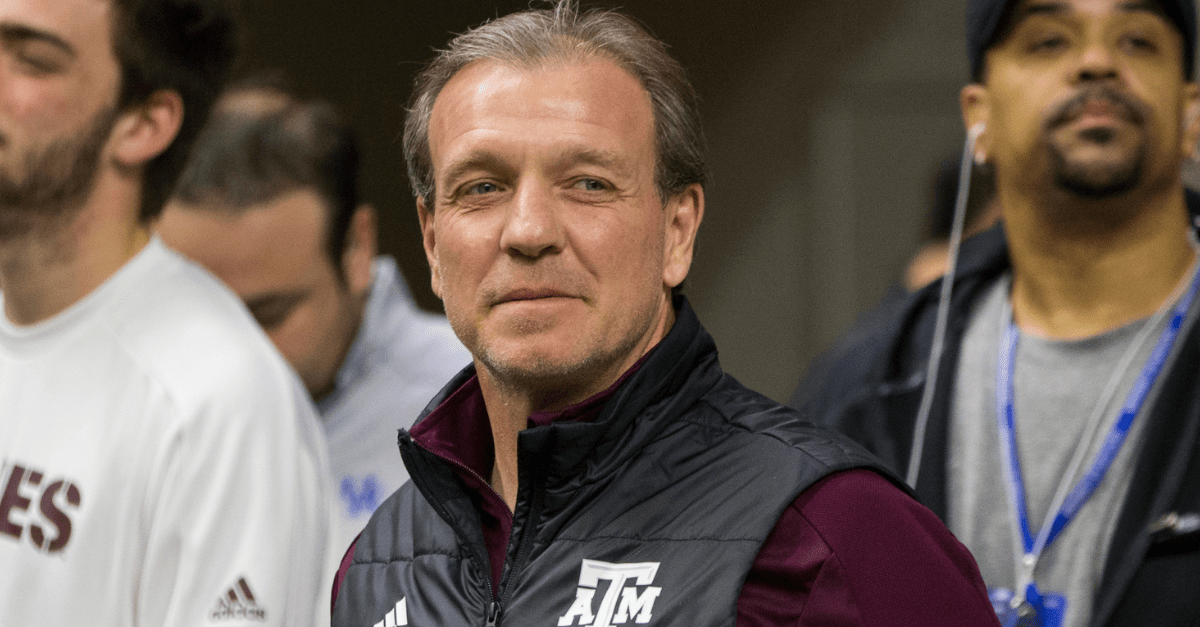 AP Photo/Sam Craft
With a huge contract in place for the next decade, Texas A&M head coach Jimbo Fisher never has to worry about money. The 53-year-old veteran likely has plenty stashed away for a rainy day in College Station, too. However, it's always nice to see what a millionaire football coach spends on various things.
Entering his second year at Texas A&M after a very successful run with the Florida State Seminoles, Fisher sees himself in the Lone Star State for many years to come. That's great news for Aggies fans. He also is fitting right in as a Texan, and here's why:
At the 44 Farms Female Sale — a livestock sale in Cameron, Texas — Fisher reportedly purchased a calf named Ruby for $80,000. Nobody knows why, but he did it.
RELATED: Jimbo Fisher Loves Him Some Texas A&M: "I Plan on Being Here a Long Time"
A big shoutout to national reporter Clay Travis. This is the type of news we never really knew we did. Jimbo Fisher now has a baby calf.
"So Jimbo Fisher just paid $80k for a baby calf, thanks to a tipster," he wrote on Twitter. "Please add this to your SEC coaching drama list as evidence of why Jimbo would never leave Texas A&M. (FYI, I'm told this is an expensive piece of livestock for those of you, like me, who have no idea what these cost)."
Although most Aggies fans are more concerned about Texas A&M traveling to Clemson in early September or beating the Alabama Crimson Tide at Kyle Field in mid-October, this certainly is proof Fisher has found a home in Aggieland, and he's settling in quite nicely.
Since arriving on campus from FSU in Tallahassee, Fisher has worked to build a college football powerhouse in the SEC. It's not an easy task, by any means, but the Clarksburg, West Virginia native showed the program is on its way up after a 9-4 overall record, including a Gator Bowl win, last year.
Even if it's just for a brief moment, everyone can stop talking about Texas A&M's athletic director leaving for LSU or who will start at running back next season. It's time to talk more about Fisher, and wonder why on earth he spent so much money on a calf.
After all, the average price per purchase was less than $5,000…