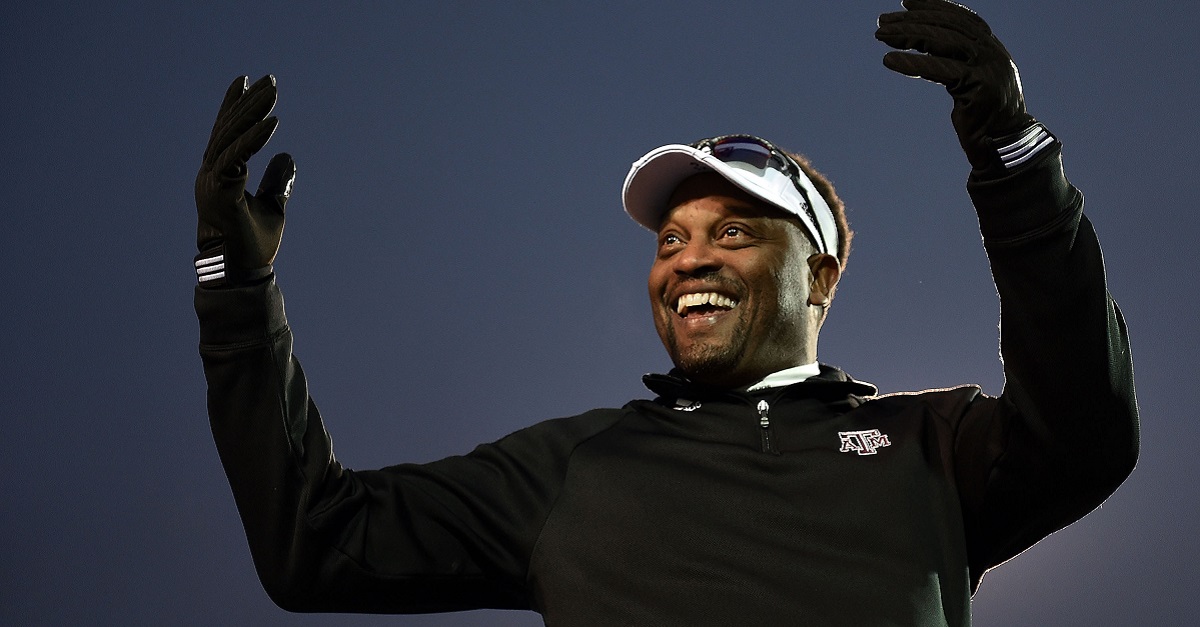 Stacy Revere/Getty Images
MEMPHIS, TN - DECEMBER 29: Head coach Kevin Sumlin of the Texas A&M Aggies looks to the crowd following a victory over the West Virginia Mountaineers in the 56th annual Autozone Liberty Bowl at Liberty Bowl Memorial Stadium on December 29, 2014 in Memphis, Tennessee. (Photo by Stacy Revere/Getty Images)
Kevin Sumlin is still the head football coach at Texas A&M, but his seat is hotter than ever after blowing a 44-10 lead to UCLA on Sunday.
When discussing a potential opening at A&M, Paul Finebaum and Bruce Feldman brought up the name of Florida State coach Jimbo Fisher as a guy that Texas A&M athletic director Scott Woodward may "try to throw $9 million at".
"Maybe Scott Woodward will try to throw $9 million at Jimbo Fisher," Feldman said to Finebaum. "I mean, Jimbo Fisher didn't jump at the LSU job, I'm not sure if he would jump at the A&M job, so that's a great question."
Feldman's suggestion is speculation, but it could serve as a good benchmark for how A&M approaches whether they hold on to Sumlin or not. If A&M feels like they can make a big landing, then they may let Sumlin — who has proven himself as a serviceable coach — go in favor of chasing the big fish. However, if they feel they can't get that guy… then Sumlin may be able to keep his job if he is able to get to eight or nine wins on the season.