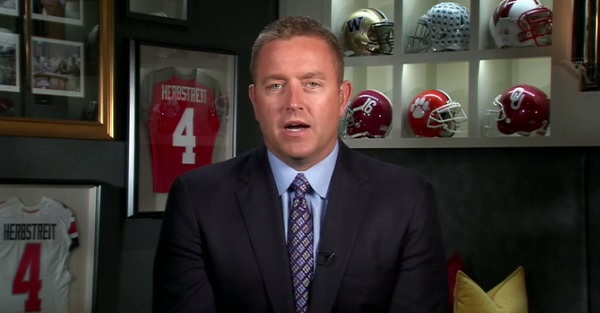 ESPN/Screenshot
ESPN/Screenshot
College football's silly season has been crazier than most in recent memory, and that sentiment rings especially true in the SEC.
The SEC has seen quite a few coaching changes and we're not even a week removed from conference championship weekend.
Jimbo Fisher bolted from Florida State to Texas A&M in perhaps the most high-profile coaching move in the country. Joe Moorhead moved from Penn State to Mississippi State to take over for Dan Mullen, who speaking of, left the Bulldogs for the Florida Gators. Matt Luke was promoted from interim head coach to official head coach at Mississippi State and Tennessee is still searching for a head coach after letting Butch Jones go.
Those are a lot of fresh faces in fresh places, but according to Kirk Herbstreit, ESPN's college football guru, none of the above new SEC coaches will make a bigger impact than Fisher. Here's what he had to say recently, speaking with SEC Country about which new SEC head coach will excel the most:
"I've got to say Jimbo Fisher," Herbstreit said. "I think Jimbo Fisher leaving Florida State raised a lot of eyebrows, including mine. But I think he's going to a school that has an embarrassment of riches as far as the resources.

"Great tradition. Great recruiting area. So I think he hits the ground running, maybe more so than maybe any of the other guys. And I think people maybe, at times, underestimate how good he is as a play-caller and how good he is as far as getting his team ready to attack a defense."
Fisher is, of course, the only new SEC coach to have won a national championship. He won the BCS National Championship back in 2013 with Jameis Winston at quarterback, and he made the first ever College Football Playoffs the very next year before losing in the semifinals.
Fisher is by all accounts a terrific recruiter and he's gone from one of the most talent-rich states in the nation as far as high school recruits are concerned, Florida, to perhaps the No. 1 high school football state in the nation.
Texas A&M has all the backing that a CFP winner would require, and Fisher has the resume, so Herbies' thoughts to make sense.
Of, course, Fisher will have to prove that what he did at Florida State this season was a fluke in the system, but Texas A&M will likely give him plenty of wiggle room to hit the ground running.