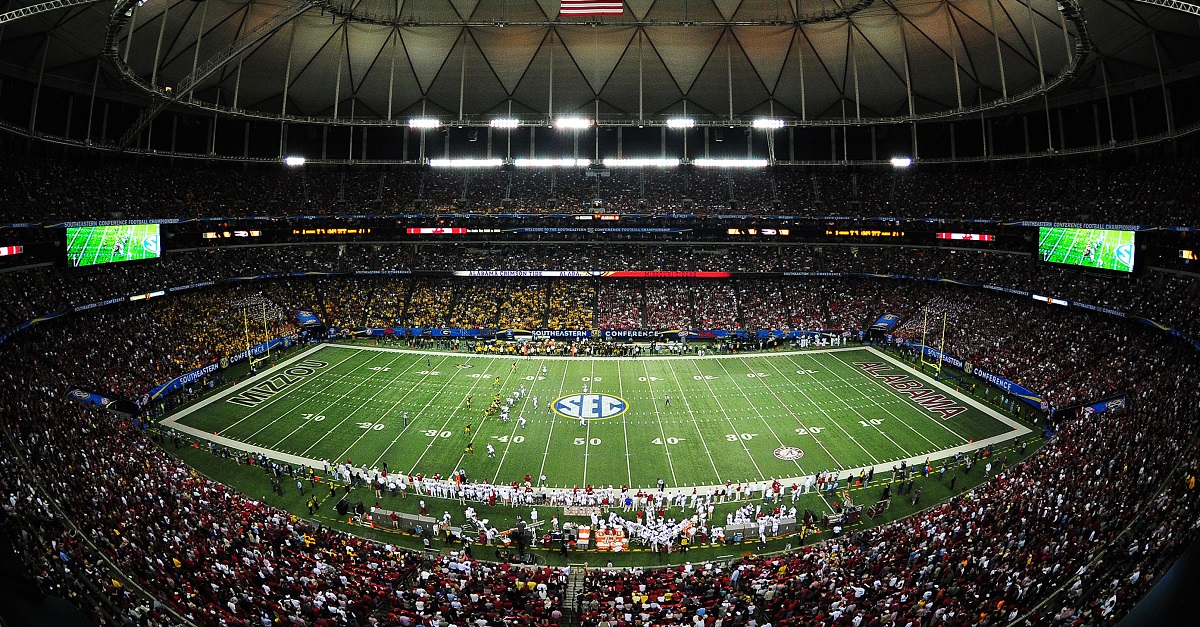 Scott Cunningham/Getty Images
ATLANTA, GA - DECEMBER 06: A general view of the SEC Championship game between the Alabama Crimson Tide and the Missouri Tigers in the third quarter at the Georgia Dome on December 6, 2014 in Atlanta, Georgia. (Photo by Scott Cunningham/Getty Images)
There's been plenty of speculation about who will meet in the SEC Championship Game with most people picking Tennessee out of the SEC East and some people going between LSU and Alabama to represent the West. There's no real definitive leader in the SEC East, but Tennessee has the nation's fifth-most starting returners this year so that is one reason why everyone favors the Vols so much this season.
RELATED: Kirk Herbstreit believes the SEC Championship will be a regular season rematch
There's one person who knows a thing or two about making it to the SEC Championship and that's former Tennessee coaching legend Phillip Fulmer. He won the SEC East six times, twice coming away with the conference championship trophy — in 19997 and 1998 — and coached the Vols to a BCS Championship.
RELATED: These fans don't think Tennessee will win the SEC East
Fulmer believes that this Tennessee squad is ready to get over its failures from last year and get back to its historic winning ways. The Vols haven't beaten Florida or gotten to the conference championship game since Fulmer was coach in 2008. However, he's been around the team this summer and he believes that its ready to take the next step.
?I think we could play Alabama once in the regular season and then again in the SEC Championship Game, but that would depend on a lot of things, like not getting injuries and playing up to our potential. If you?re just talking about preseason expectations, I don?t think there?s any doubt we?re one of the best teams in the SEC.?
RELATED: Fulmer calls Peyton Manning the greatest QB ever
Tennessee fans are hoping that the former coach is right and that he's onto something because the Vols could definitely use a good 10-win season or better this year. It would be even more ideal to get to Atlanta and truly compete for a conference title, which would undoubtedly help Butch Jones keep his job for the near future.
[h/t Saturday Down South]