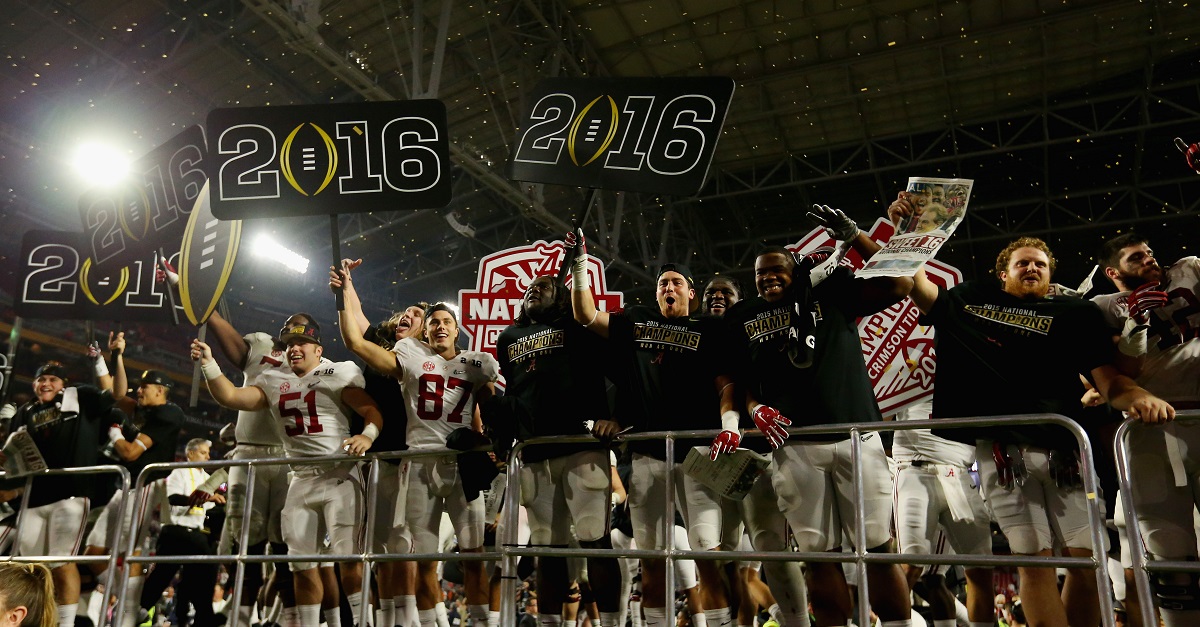 Ronald Martinez/Getty Images
GLENDALE, AZ - JANUARY 11: The Alabama Crimson Tide celebrate after defeating the Clemson Tigers in the 2016 College Football Playoff National Championship Game at University of Phoenix Stadium on January 11, 2016 in Glendale, Arizona. The Crimson Tide defeated the Tigers with a score of 45 to 40. (Photo by Ronald Martinez/Getty Images)
It's that time of the year when analysts wow us with their predictions. Some are predicting who will make the college football playoff this year, and most are choosing either Alabama to represent the SEC as one of the nation's top four teams. But for one respected Fox Sports analyst, it's an easy choice.
Stewart Mandel thinks both Alabama and LSU will make the playoff this year, regardless of which team wins in their head-to-match on Nov. 5.
Mandel, who's now a senior columnist for Fox and previously spent 15 years at Sports Illustrated, predicts both LSU and Alabama will finish with 11-1 records and make the playoffs. That's not an outlandish record prediction for the defending national champs, but it's a little more so for LSU. The Tigers lost three-straight games in SEC play last year and have a tougher nonconference schedule this year with a road game against Wisconsin to open the season.
It is an intriguing prediction. If both teams finish 11-1, they would have both beaten many top 25 teams, which would be a plus for the selection committee. Two big questions arise from the prediction, though.
First, can both Alabama and LSU escape with only one loss each? One team is guaranteed a loss by their head-to-head match, which the means the loser would have to survive the rest of its schedule unscathed. Second, what if there's three other undefeated teams from power conferences? Does the selection committee really pass up an undefeated team for a one-loss team? It's a legitimate question. The winners of the Big Ten, Pac-12, ACC and Big 12 could be undefeated.
You can read Mandel's full column here.