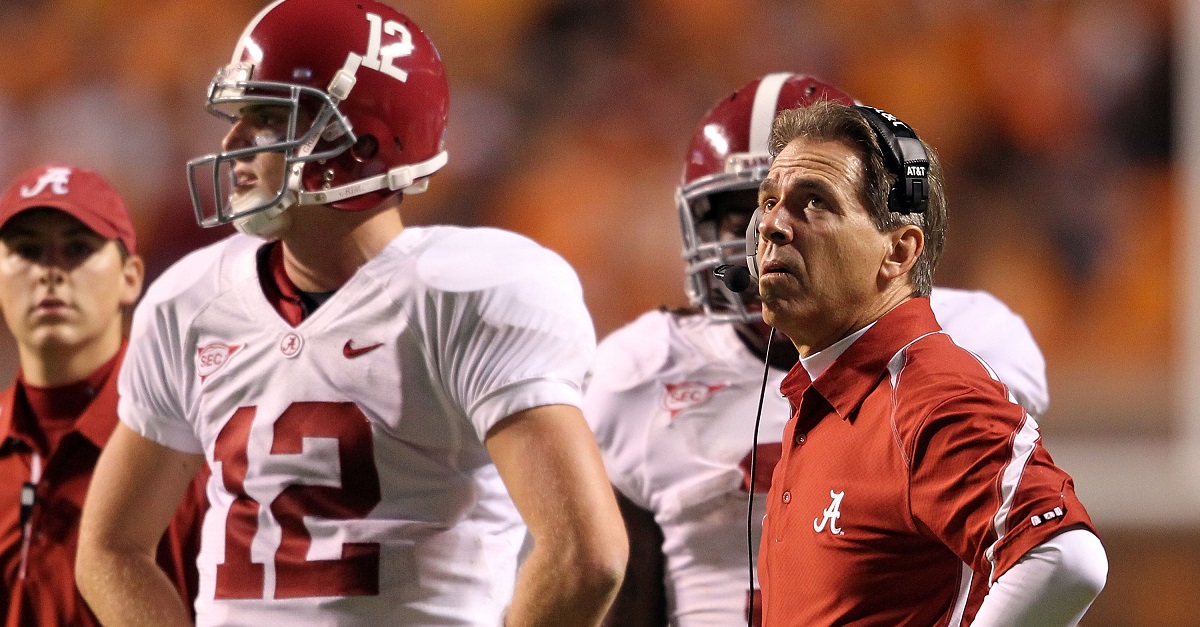 Andy Lyons/Getty Images
KNOXVILLE, TN - OCTOBER 23: Greg McElroy #12 and Nick Saban the Head Coach of the Alabama Crimson Tide are pictured during a timeout in the SEC game against the Tennessee Volunteers at Neyland Stadium on October 23, 2010 in Knoxville, Tennessee. (Photo by Andy Lyons/Getty Images)
There are some ESPN personalities that enjoy watching the SEC games and there are some who think it is the most overrated conference ever. Danny Kanell is one of the latter and a former quarterback from Florida State, which may also play a role in it. He got into quite the Twitter argument with former Alabama quarterback Greg McElroy about it.
RELATED: Paul Finebaum crushed Ed Orgeron after LSU loss to Alabama
It all started with an innocent enough tweet about the Alabama-LSU game Saturday night. McElroy was watching his alma mater and talked a little bit about why he enjoyed it.
And then he responded to all the hate tweets about the game and doubled down on his take.
Infamous SEC hater and hate hard specialist Danny Kanell decided it was his time to shine — because having a radio show and being an analyst for ESPN doesn't give him enough of that — by taking his shot at McElroy.
Instead of taking the bait like most people would, McElroy stays on his point and topic with this tweet:
And it looks like the two might agree on something here as he tried to get McElroy to back off his "great games" comment:
And then he ruined all the feel good stuff with this tweets:
McElroy hit him with the baseball analogy though he couldn't even respond to because it was so good:
If we're going by who got the last word in, it appears McElroy won this round.
[h/t SEC Country]