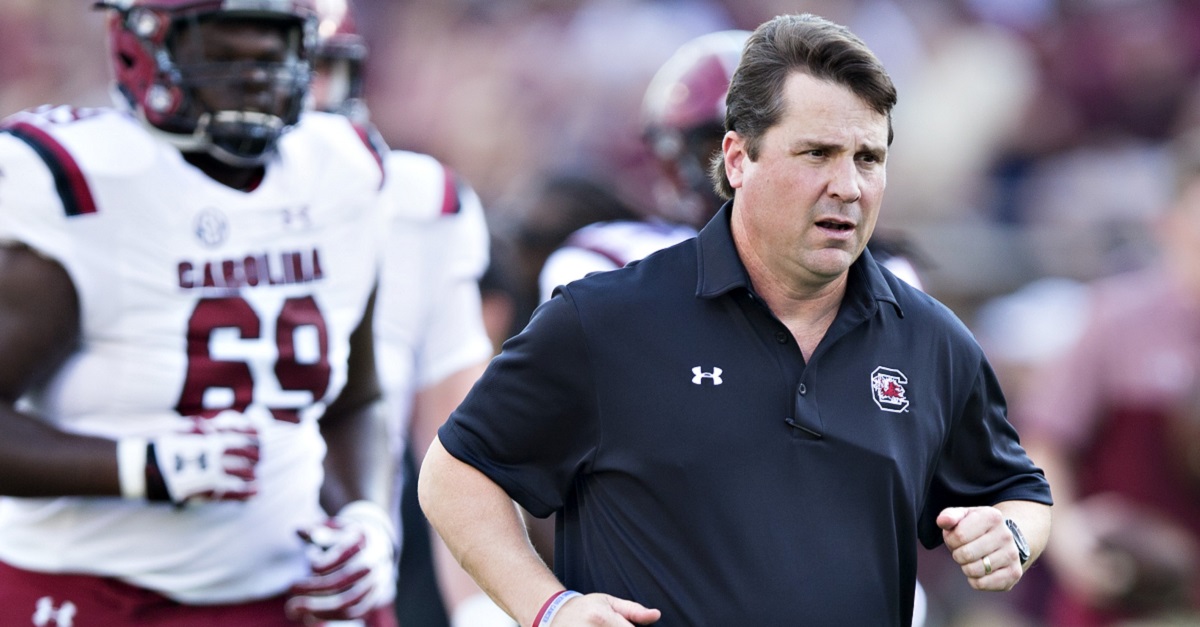 Wesley Hitt/Getty Images
STARKVILLE, MS - SEPTEMBER 10: Head Coach Will Muschamp of the South Carolina Gamecocks jogs onto the field during a game against the Mississippi State Bulldogs at Davis Wade Stadium on September 10, 2016 in Starkville, Mississippi. The Bulldogs defeated the Gamecocks 27-14. (Photo by Wesley Hitt/Getty Images)
Will Muschamp has already succeeded in turning around a South Carolina program that was among the SEC's worst last season.
The first-year Gamecocks head coach has used his recruiting prowess to throw a life preserver to a program that was practically dead in the water after last year, having lost legendary head coach Steve Spurrier and capping off a disheartening 2015 season with five losses in its last six games.
And he's done most of it with fledgling talent. Muschamp's first recruiting class is in large part already making an impact. True freshman Jake Bentley is the starting quarterback, the team's top two pass rushers, A.J. Turner and Rico Dowdle, are true freshman, and one of the team's biggest weapon's, wide receiver Bryan Edwards, is also a freshman.
Muschamp is unsurprisingly optimistic. So optimistic, in fact, this week on his radio show he predicted the Gamecocks would win a championship—although he didn't specify whether he meant conference or national.
At 5-5 with a winnable game against Western Carolina up next before the annual interstate rivalry at Clemson in the season finale, the postseason is all but assured after last season's 3-9 debacle.
So, why not be a little arrogant? Muschamp's kind of earned it.