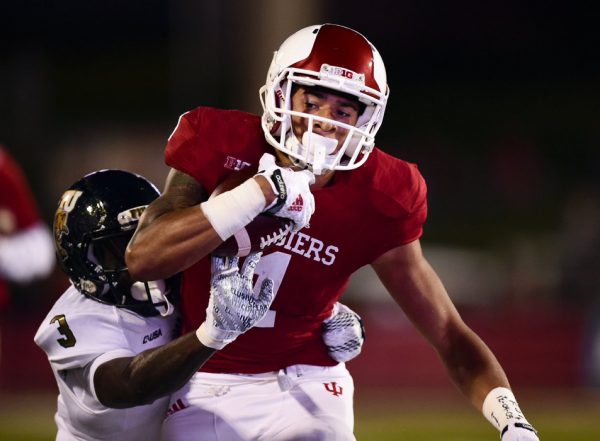 IU Football News via Twitter
Simmie Cobbs, a wide receiver at Indiana who was expected to play a big role with the team this season, was arrested Saturday night.
The Indianapolis Star, quoting Hamilton County Sheriff's Department records, said Cobbs, 21, was arrested on suspicion of refusal to identify and resisting law enforcement, both misdemeanors.
Cobbs, according to the report, was at the Klipsch Music Center outside of Indianapolis when security alleged he did not comply with "security personnel attempting to clear aisles during the concert."
The Indianapolis Star said Cobbs refused to take a breathalyzer test or provide identification, and was subsequently arrested.
In a statement to the Star, Indiana University said: "Indiana University Athletics and the IU football program are aware of the arrest of redshirt junior Simmie Cobbs Jr. We will continue to gather facts, monitor the legal process and take action as the evolving situation warrants."
Cobbs caught 60 passes for 1,035 yards in 2015, but hurt his ankle last season and had to take a redshirt year.