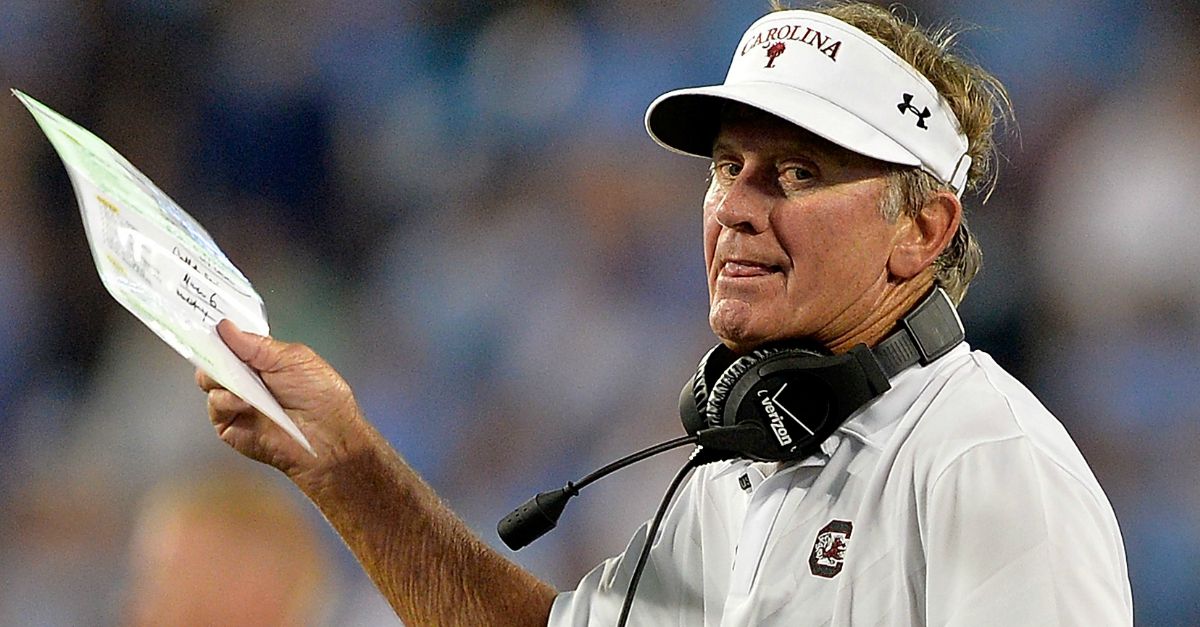 during their game at Bank of America Stadium on September 3, 2015 in Charlotte, North Carolina. South Carolina won 17-13.
The Head Ball Coach — former South Carolina head man Steve Spurrier, of course — was always famous for his quotes that completely dissed rival schools. During his time at the University of Florida, he had a couple of very good ones — including "You can't spell Citrus without U-T" when he was asked about Tennessee missing out on the Sugar Bowl so many years. Then there was the famous one he had for the Florida State faithful — "You know what FSU stands for, don't you? Free Shoes University."
Spurrier was honored over the weekend in Knoxville, Tn., as he was this year's recipient of the Robert Neyland Award. It's a little ironic, given how much fun he poked at Tennessee during his years at Florida. While he met with the media over the weekend, he did actually reveal which of his famous one-liner was his own personal favorite. It may not be one you'd expect — it was actually a shot he took towards Georgia football.
When Spurrier was at South Carolina, he was asked about playing Georgia early in the season and how he approaches it. He responded hilariously by saying, "I don't know. I sort of always liked playing them that second game because you could always count on them having two or three key players suspended." That's the quote Spurrier revealed was actually his favorite.
"They were asking me about all those things I said, the Citrus Bowl jokes and Free Shoes U. stuff," Spurrier said via ESPN.com. "I told them I always thought the best one didn't have anything to do with Tennessee or FSU. It's the one I said about preferring to play Georgia the second week of the season because you could always count on them having two or three good players suspended every year. Everybody said, 'Did you really say that?' and I said, 'Yes, because it's true.' "
Didn't expect it to be that quote, but that one sure was a good one. Hopefully Spurrier hanging up his headset and visor doesn't meant the end of these one-liners.