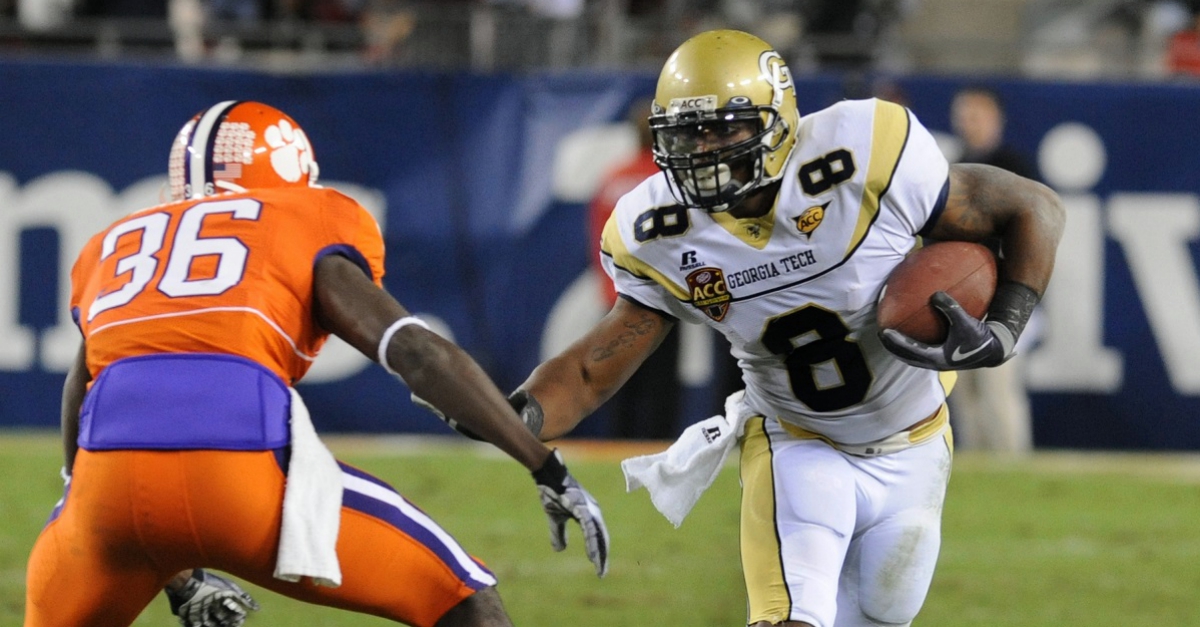 TAMPA, FL - NOVEMBER 28: Wide receiver Demaryius Thomas #8 of the Georgia Tech Yellow Jackets rushes upfield against the Clemson Tigers in the 2009 ACC Football Championship Game at Raymond James Stadium on December 5, 2009 in Tampa, Florida. (Photo by Al Messerschmidt/Getty Images)
In college football, recruiting is one of the most covered topics in the sports. Prospects out of high school are given star-ratings by several services, which fans and media alike then use to project which teams have the best set of players coming up in their newest class.
Well, the AFC Championship game on Sunday between the Patriots and the Broncos exposes a bit of a flaw on the recruiting trail: only one former five-star recruit will be starting in that game.
Yep, just one.
Andy Hutchins and Kevin Trahan of SB Nation gathered up the data using 247Sports and Rivals to what the starters for Sunday's game were rated coming out of high school. The results is that New England's Malcolm Brown — formerly of Texas — is the game's lone starter that had a five-star rating by recruiting services. It's not like it's a bunch of four-star guys starting, either.
But an incredible 28 of 44 starters for the Broncos and Patriots, just under two-thirds of both starting lineups, were either two- or three-star recruits.
Now, there were some flaws in this data, such as the recruiting services not being old enough for us to have star-ratings for Peyton Manning and Tom Brady. As quarterbacks going to major schools, both would have been given high ratings, with Manning likely fitting the bill as a unanimous five-star recruit.
The NFC Championship game actually presents the opposite picture. According to the same SB Nation article, that game features eight former five-star recruits in starting roles. The two games really present the best of both worlds, showing that sometimes talent just needs time to develop, and that sometimes the blue-chippers really are the real deal.