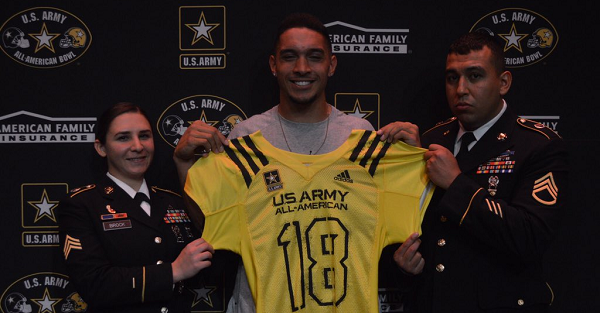 @ArmyAllAmerican/Twitter
@ArmyAllAmerican/Twitter
Five-star athlete Talanoa Hufanga is definitely one of the more coveted recruits in the class of 2018 and he's now down to six schools and a commitment date. He's favoring Michigan, USC, Utah, Nebraska, Oregon and UCLA and revealed when he wants to commit.
"I think I'll commit maybe after Christmas or right before Christmas," Hufanga said at his U.S. Army All-American jersey presentation.
The 6-foot, 193-pound Oregon native is ranked as the top athlete in the recruiting class and the No. 14 overall recruit according to 247Sports. He's already taken official visits to Utah and UCLA with plans to see Nebraska this weekend. He took an unofficial visit there so this one will be his official. Hufanga also has offers from Alabama, Arizona, California, Notre Dame, Tennessee and Vanderbilt among others.
Here are some of his highlights:
[h/t 247Sports]