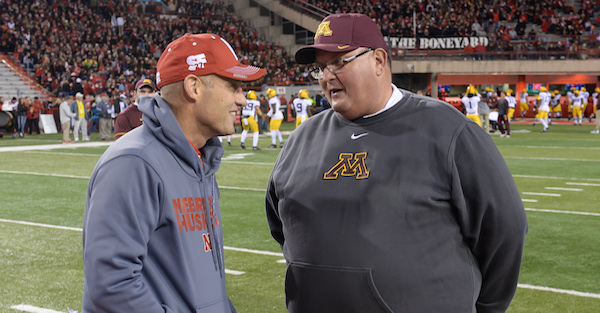 Steven Branscombe/Getty Images
LINCOLN, NE - NOVEMBER 12: Head coach Tracy Claeys of the Minnesota Golden Gophers and head coach Mike Riley of the Nebraska Cornhuskers meet before the contest at Memorial Stadium on November 12, 2016 in Lincoln, Nebraska. (Photo by Steven Branscombe/Getty Images)
After threats of boycotting the Holiday Bowl over the suspension of teammates, Minnesota will play after all:
According to the Star Tribune, University of Minnesota players had threatened to boycott the Holiday Bowl if their 10 teammates (suspended over an alleged sexual assault investigation) were not reinstated.
The report details the players united over a disagreement on the school's decision, and they planned to boycott all practices, team activities and even the bowl game itself.
Five of the 10 players are facing expulsion, while four others face a one-year suspension and the final possibly faces probation.
The ten suspended players are: Ray Buford, Carlton Djam, Seth Green, KiAnte Hardin, Dior Johnson, Tamarion Johnson, Kobe McCrary, Antonio Shenault, Mark Williams and Antoine Winfield Jr.
Four of the players have already served a suspension this season for an unspecified violation of team rules. Those four players were Buford, Hardin, and both Johnsons.
TwinCities.com reports that the suspension stems from a September sexual assault allegation. The four previously mentioned players were suspended three games for an investigation that took place for those allegations for which charges were never pressed.
Here's what the player's attorney told the Star Tribune:
"Hutton said the (school's office for Equal Opportunity and Affirmative Action) recommended expulsion for Ray Buford, Carlton Djam, KiAnte Hardin, Dior Johnson and Tamarion Johnson; one-year suspensions from the university for Seth Green, Kobe McCrary, Mark Williams and Antoine Winfield Jr., and probation for Antonio Shenault."
The school's discipline comes after a criminal investigation resulted in no reported arrests or charges.
Minnesota is slated to face off against Washington State on December 27. NIU was picked as a possible representative if Minnesota bailed.