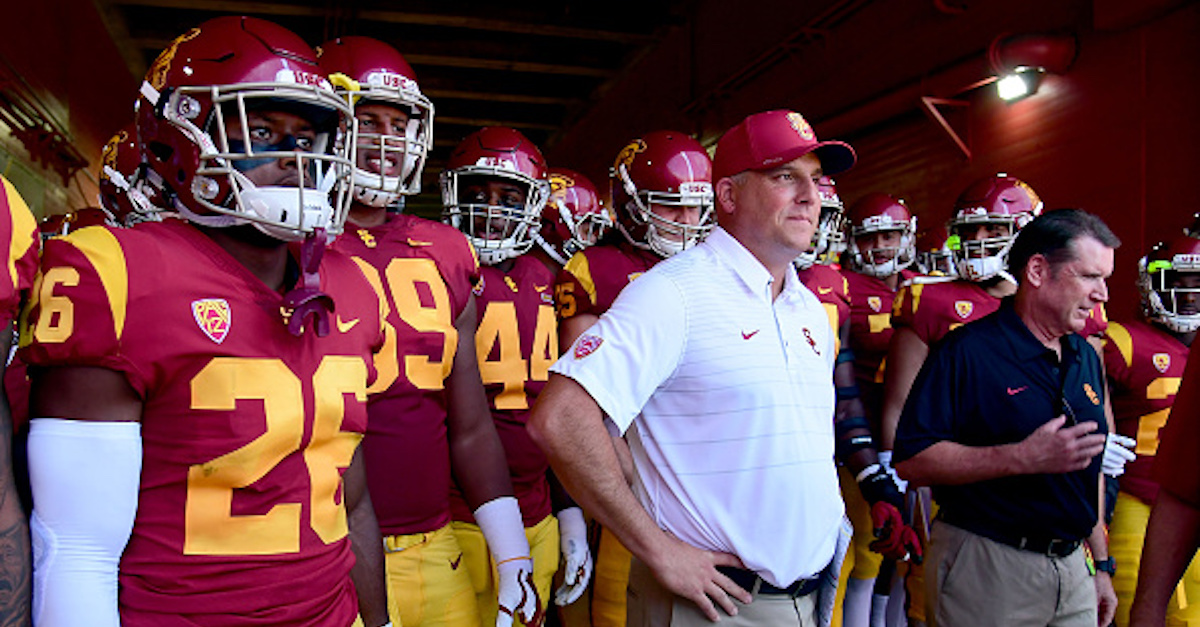 Harry How/Getty Images
Harry How/Getty Images
Can you believe we're already three weeks into the 2017-18 college football season? It's going by like a flash, but that's what happens when you're having fun, right?
So far, the season has been so good. We've always seen our fair share of monumental clashes and there has even been an upset or two.
It's definitely the most wonderful time of the year, but for the below four schools, week three has the potential to be very stressful. They're heading into must-win weekends with a ton on the line and a lot to lose:
Florida Gators
vs. No. 24 Tennessee, Saturday, Sept. 16, 3:30PM ET on CBS
Florida's second game of the season, a cupcake clash against Northern Colorado, was canceled because of Hurricane Irma, so week three is the first time we'll see the No. 24 Gators since their horrible opening weekend loss to Michigan.
Florida lost to Michigan, 33-17, but that score doesn't tell the whole story. The Gators couldn't get anything going on offense, not scoring a single touchdown against the Wolverines, and had it not been for two pick-six's in the second quarter, the game would have been a straight-up blowout.
Unfortunately for Florida, its buffer game was canceled, but even an extra week of practice and preparation won't make this weekend's game against No. 23 Tennessee any easier.
Florida is at home and Jim McElwain needs to get this win.
For all of the Vols flaws, they're still 2-0 and a Top 25 opponent for Florida. The Gators, on the other-hand, come in with major question marks at quarterback and would fall to 0-2 with a loss this weekend, and that's when things could start to really get ugly.
LSU Tigers
at Mississippi State, Saturday, Sept. 16, 7:00PM ET on ESPN
The No. 12 LSU Tigers have a huge chance to compete with Alabama for the SEC West crown this season, but that means they'll have to run through their divisional opponents en route to an early November clash with the Tide, and Mississippi State is the first up on that list.
Both teams come into this contest at 2-0 and the game is in Starkville, which is one of the more underrated venues in college football. It's a tough place to play, especially for an away team's first true test of the season.
LSU has beaten BYU (27-0) and Chattanooga (45-10), but both games have been at home, and neither of those teams has anywhere near the talent level of Mississippi State.
Derrius Guice should be a Heisman contender this season and LSU could be a College Football Playoff contender. A win this weekend would go a long way towards proving those statements.
A loss would paint the Tigers in a much different light.
Louisville Cardinals
vs. No. 2 Clemson, Satuday, Sept. 16, 8:00PM ET on ABC
This is not the first time No. 14 Louisville has been on this list, and that should tell you just how tough the Cardinals' 2017 season has been so far. Week one was a tougher than expected clash against Purdue and in Week two, Louisville ran into a tough test at North Carolina.
Still, the Cardinals are 2-0 and Lamar Jackson certainly looks like he's on the way towards a second-straight Heisman Trophy induction. So far this season, he's thrown for 771 yards and five touchdowns while rushing for 239 yards and three touchdowns.
He's the real deal, in case you were wondering, but his team will run into another very tough test this weekend. In fact, it's their toughest test yet.
No. 3 Clemson invades Louisville hot off a win over No. 13 Auburn.
The Tigers will be looking to shut down Jackson, and in the process prove that they're capable of winning a second-straight National Championship. On the other-hand, a win from Jackson and the Cardinals would propel Louisville into the driver's seat for the ACC crown, and it would likely even solidify them on the early CFP favorite list.
The Cardinals have a lot to lose this weekend because a win would mean so much.
USC Trojans
vs. Texas, Saturday, Sept. 16, 8:30PM ET on FOX
The Trojans, ranked No. 4 in the latest AP Top 25, just took No. 14 Stanford to the woodshed in a very impressive 42-24 win in Los Angeles.
Week three will provide USC with just as big of a test, though, and this is despite the fact that Texas is 1-1 with an early-season loss to Maryland already staining its record.
This game is a rematch of the epic 2006 Rose Bowl that saw Vince Young and the Longhorns beat Matt Leinart and the Trojans in epic, unforgettable, legendary fashion. This is the first time the two programs are meeting up since then, so all bets are off.
How this game plays out is anybody's guess. Yes, USC is a CFP favorite and likely a much better team, but there's a ton on the line for Tom Herman and Texas as well — this could be a proving game for the Longhorns — so this will be far from an easy win for USC.
Frankly, the Longhorns don't have anything to lose. A loss wouldn't be at all surprising, and Herman is only three games into his tenure at Texas, remember, so he has plenty of time to bounce back.
A loss would really hurt USC, though. Not only would it hurt the Trojans in the polls, but with two road games in a row coming up — one against No. 21 Washington State — a loss could lead to more than just a bump in the road.