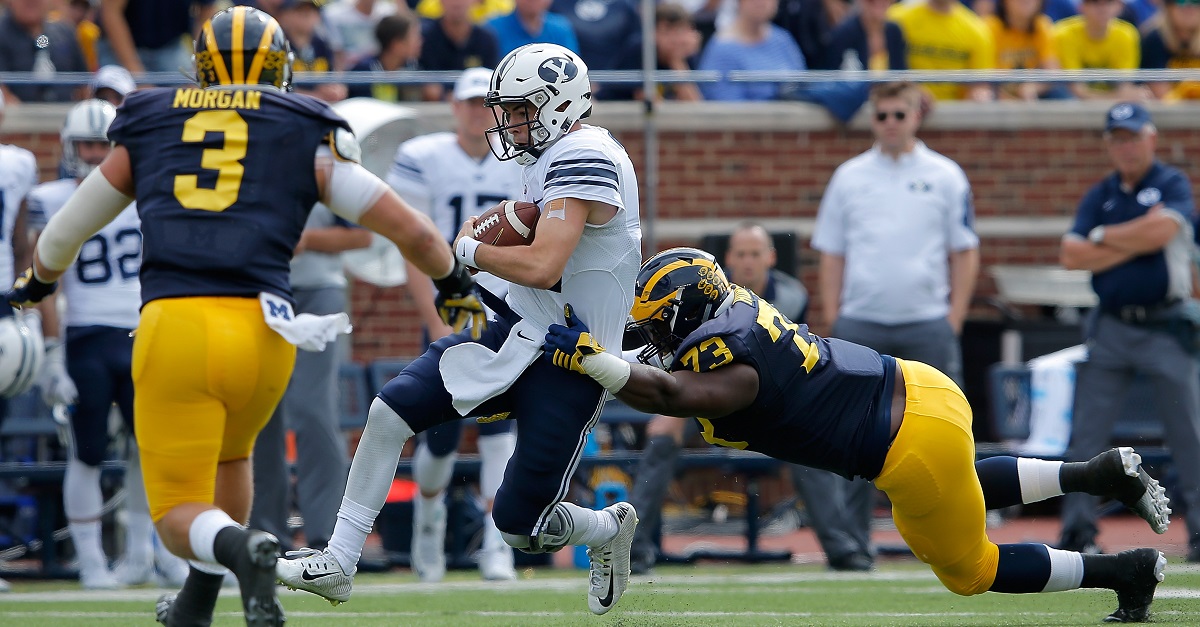 Doug Pensinger/Getty Images
ANN ARBOR, MI - SEPTEMBER 26: Quarterback Tanner Mangum #12 of the Brigham Young Cougars scrambles with the ball and is tackled by Maurice Hurst #73 of the Michigan Wolverines at Michigan Stadium on September 26, 2015 in Ann Arbor, Michigan. The Wolverines defeated the Cougars 31-0. (Photo by Doug Pensinger/Getty Images)
On-field expectations are through the roof for Jim Harbaugh and the Michigan Wolverines in 2016 and, frankly, there is a reason for that. The team from Ann Arbor is absolutely loaded with talent and a recent list from a leading NFL source tells that story beautifully.
Steve Palazzolo of Pro Football Focus released his ranking of the top five 2017 NFL Draft prospects at each position and four members of the Michigan roster were featured. First, Jake Butt was the choice at the top of the heap for tight ends:
Smooth route running allows Butt to create separation at the intermediate level, leading to the top receiving grade among returning tight ends. While he's not a great blocker, he faces a lot of challenging matchups in Michigan's pro style system, and there are a number of impressive blocks on tape.
Butt is a preseason All-American according to a number of credible publications and the 6-foot-6 target is on pace to become the best receiving tight end in Michigan history. For a school that has produced multiple pros at the position, that is a lofty expectation, and one that Butt can certainly fulfill.
Elsewhere, do-everything "linebacker" Jabrill Peppers tops the list… at safety:
Though he'll officially be called a linebacker for Michigan this season, Peppers is still projected as more of a safety in the NFL. Still, the lines are blurring on the two positions depending on the scheme, so perhaps Peppers will be an NFL linebacker by this time next year. Regardless, it's his attacking nature in the run game combined with the athleticism in coverage that makes Peppers a unique player. The ability to play the run, blitz effectively, and cover tight ends is coveted at the next level and Peppers brings those unique skills to the table.
As noted by Palazzolo, Peppers' value comes in his versatility, and he was even recruited as a cornerback coming out of high school. We know that he can do just about anything on a football field, and the NFL has certainly noticed.
The other two players mentioned on the list are Jourdan Lewis (No. 3 at CB) and Maurice Hurst (No. 4 at interior DL) and PFF describes Lewis as a "good run defender and solid tackler" in addition to his obvious skills in coverage. As for Hurst, this website is particularly high on the rotation defensive tackle (and his small sample size of tape is mentioned), but PFF calls Hurst "maybe the best player on a loaded Michigan defensive front" and that is incredible praise.
Names like Chris Wormley, Jehu Chesson and Mason Cole could become factors in the 2017 draft class, and the list just keeps growing with off-the-charts talent in Ann Arbor. The quarterback questions persist, but if Harbaugh and his staff can coax quality play from the chosen signal-caller, the sky is the limit based on the remainder of the roster.