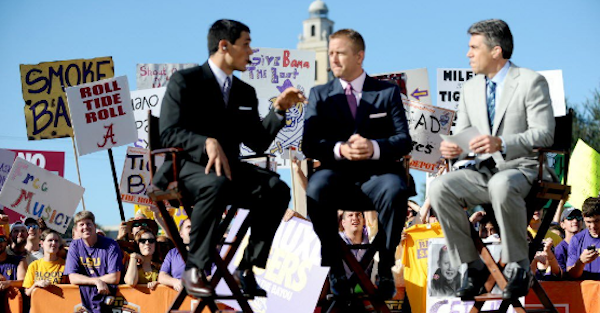 Richard Deitsch's latest SI Media Podcast featured appearances by two sports media agents. Steve Herz, president of IF Management, and Matt Kramer, an agent for CAA, joined him and talked about how much former players and coaches make as analysts and color commentators for ESPN and FS1.
There have been a number of reports on the salaries of some of the bigger ESPN names who have recently left — Colin Cowherd, Skip Bayless, Mike Tirico — and how they pull down millions a year.
But these kind of guys are typically not salaried employees and are paid by ESPN (or FOX or CBS) on a per-game basis. Here's the conversation from the podcast:
"If I'm an ex-athlete coming in, and I'm an analyst there (at ESPN, FOX, etc.) doing games, I'm like the No. 4 college football person or the No. 3 college basketball person, what kind of salary am I looking at if I'm at ESPN or FS1? And I'm going to do a couple of different positions, but this is specific to an ex-coach, ex-GM, an ex-player who's doing live games at ESPN on a No. 3, No. 4 team," Deitsch asked.

"It's an interesting question. It's a broad range. At ESPN, you could find people making anywhere on the low end making, like, $2,500 a game, maybe even less, depending on if they're doing it for ESPNU or the SEC Network. And then, relatively decent jobs, these guys move up the ladder, it can be $5K, $6K, $7K to do an event. And obviously, there are guys making $15K, $20K, $30K an event depending on who they are on their stature. But if you're looking in that, you're talking about the lunch pale guy, that's, I think, a fair range – $2,500 to $6K a game until the guy has broken out of that," Herz said.
That's not too bad a chunk of change for guys who enjoy talking about the game and have really nothing better to do with their time. The podcast also features a number of other interesting tidbits and can be listened to in full here.
[h/t CollegeSpun]