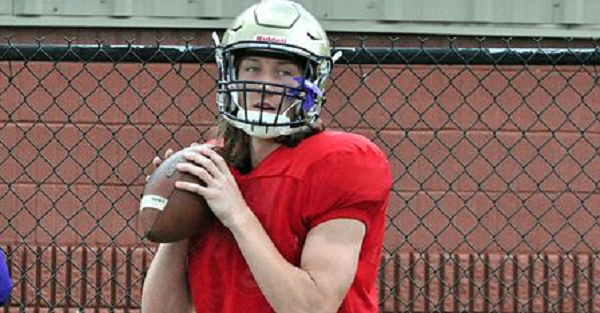 Rusty Mansell/247Sports
Rusty Mansell/247Sports
Sept. 1, 2016 is a landmark day when it comes to college football recruiting. In short, that is the first day on the calendar in which prospects from the 2018 class can be directly contacted and, as you may expect, schools from around the country were very busy in the wee hours of Thursday morning.
Quarterback Trevor Lawrence, who happens to be the top overall player in the 2018 class according to 247Sports, received an avalanche of attention on day one, and the list of programs that contacted him was impressive. Rusty Mansell of 247Sports brings word from Lawrence, who stands at 6-foot-6 and 196 pounds, that Georgia, Clemson, LSU, Florida State, Oklahoma and Michigan all made contact.
Lawrence hails from Cartersville, Ga. and that fact could come into play with the "hometown" program led by Kirby Smart, but each of the six programs included boasts an impressive recruiting pedigree. The pro-style quarterback threw for 3,655 yards and 43 touchdowns as a sophomore in 2015, and when it comes to recruiting, nothing can generate attention faster than an upper-echelon quarterback with all of the tools that colleges search for at the high school level.
It is still (far) too early to speculate on Lawrence's collegiate destination, but from the looks of it, he will have his choice between the best college programs in America and at least six of them wasted no time in kicking off their pursuit.