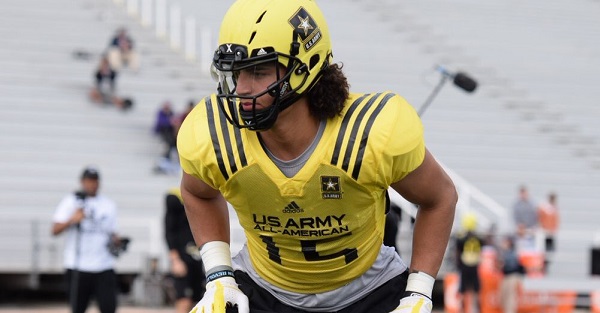 Twitter/Jaelan Phillips
Alabama commit Najee Harris has been dethroned from his position as the No. 1 recruit in the 247Sports Composite rankings.
After updating their player rankings, UCLA commit and defensive end Jaelan Phillips is now the No. 1 overall recruit in the composite rankings. Those rankings are a compilation of multiple recruiting rankings from several services, so it is generally considered one of the top rankings in recruiting.
Related: Big 310-pound four-star OL officially shuts down his recruitment
Phillips has been committed to UCLA since April, and he has the prototype size for a dominant pass rusher with a 6-foot-6, 253-pound frame with a 4.6 40-time on record. He will definitely have a chance to shake things up for UCLA's defense, which could use a superstar on the defensive line.
Meanwhile, Harris falls to No. 3 overall in the rankings behind Florida State commit and fellow running back Cam Akers. Of course, the fall for Harris isn't that big of a deal; he's still a five-star recruit that is expected to make a big splash in his collegiate career.
National Signing Day is just two weeks away on February 1st.