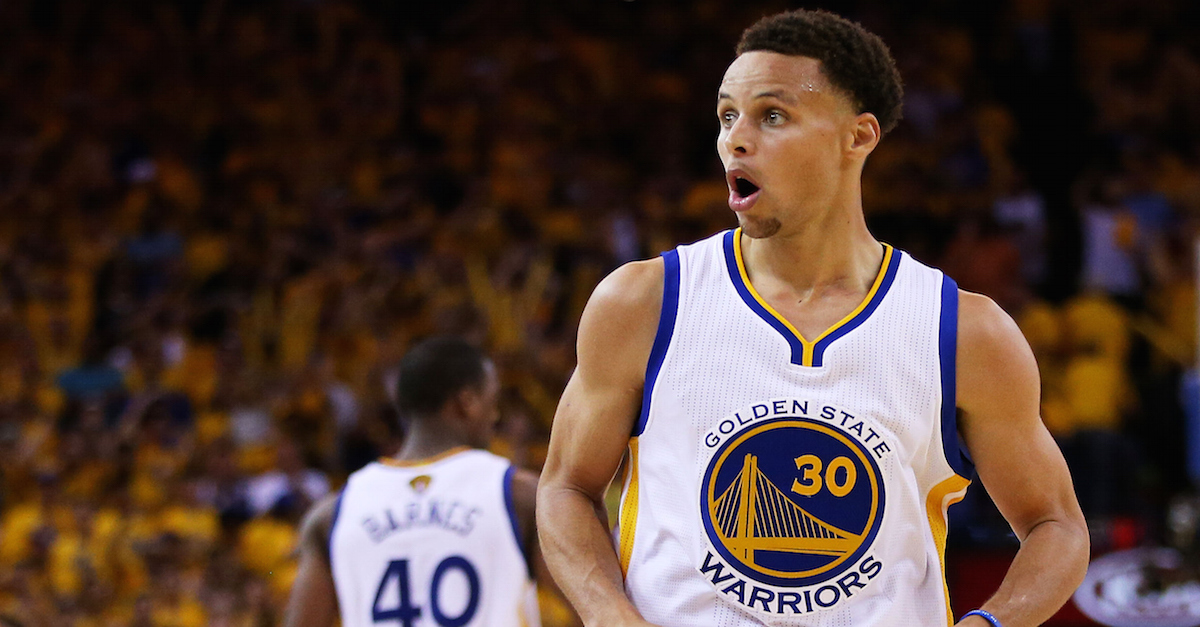 Ezra Shaw/Getty Images
OAKLAND, CA - JUNE 14: Stephen Curry #30 of the Golden State Warriors celebrates with fans in the fourth quarter against the Cleveland Cavaliers during Game Five of the 2015 NBA Finals at ORACLE Arena on June 14, 2015 in Oakland, California. NOTE TO USER: User expressly acknowledges and agrees that, by downloading and or using this photograph, user is consenting to the terms and conditions of Getty Images License Agreement. (Photo by Ezra Shaw/Getty Images)
Just one year ago, Chris Evans wasn't even a top-200 recruit. Now, he is generating comparisons to arguably the best player in the NBA and the cross-over almost makes sense.
Evans, who is listed at 5-foot-11 and a very generous 200 pounds, burst on to the scene for Michigan in the team's season opening win over Hawaii, rushing for 112 yards and two touchdowns on just eight carries. While he wasn't quite as effective in his second outing, the dynamic ball-carrier did garner a ridiculous comparison from his position coach this week, as Michigan's Tyrone Wheatley (who was famously an All-American in Ann Arbor) had this to say about Evans (h/t Detroit Free Press):
"What do I like most about Chris Evans? He's like my Steph Curry in the room. Meaning that he can create his own space, can win one-on-ones and, most surprisingly … I didn't realize how tough he was between the tackles. That was one of my things (with him) coming in, to see how could he run between the tackles, his toughness, his strength."
Wheatley at least went on to explain how the comparison to Stephen Curry actually works, and creating space is something that the Golden State Warriors guard does at an elite level. With that said, it's certainly an aggressive description of Evans, especially after two games.
Regardless of whether you buy in to this particular view of Chris Evans, he is the first dynamic running back for Michigan in this mold since current Pittsburgh Steelers running back Fitzgerald Toussaint, and the hype train is churning for the Wolverines.