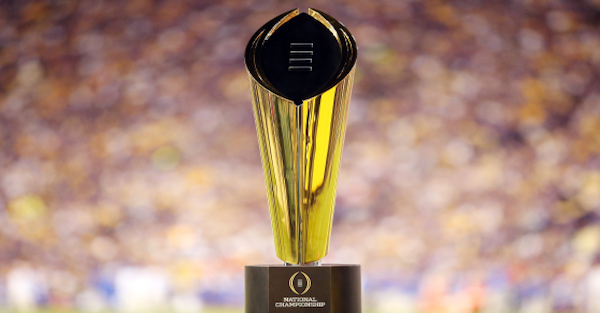 Chris Graythen/Getty Images
BATON ROUGE, LA - OCTOBER 17: College Football Playoff National Championship Trophy presented by Dr Pepper is seen at Tiger Stadium on October 17, 2015 in Baton Rouge, Louisiana. (Photo by Chris Graythen/Getty Images)
Constructing the College Football Playoff field is a perilous exercise right now. Only two teams, Alabama and Clemson, appear to be full-on "locks" if they are able to claim conference titles next weekend, and that leaves a myriad of possibilities when trying to come up with four teams.
However, Chris Fallica of ESPN has a team in his quartet that will surprise you. When responding to a question about who would make the field if Washington (the one-loss Pac-12 favorite) knocked off Colorado to win the conference, Fallica included the Michigan Wolverines.
This is a stunning choice given that Michigan has lost two of their last three games and, at least for many pundits, the Wolverines are on the outside looking in because they did not reach the Big Ten title game while also being behind Ohio State in any rational scenario. However, Fallica later clarified his opinion by stating, in plain terms, that the Buckeyes are already in the field in his mind.
Under Fallica's construct, the choices for the fourth spot would be the Pac-12 champion, Big Ten champion (Wisconsin or Penn State) and Michigan, and he would put the Wolverines in. While it would be tough to make a case for Jim Harbaugh's team over a 1-loss Washington, Michigan did beat Colorado, Wisconsin and Penn State this season, which would seemingly simplify the case against any of that trio.
There is plenty of football left to be played and, frankly, a sleeper like Oklahoma could hop into the mix with a dominant effort in Bedlam. Still, Chris Fallica is probably out on a limb, but his opinion might make you think.