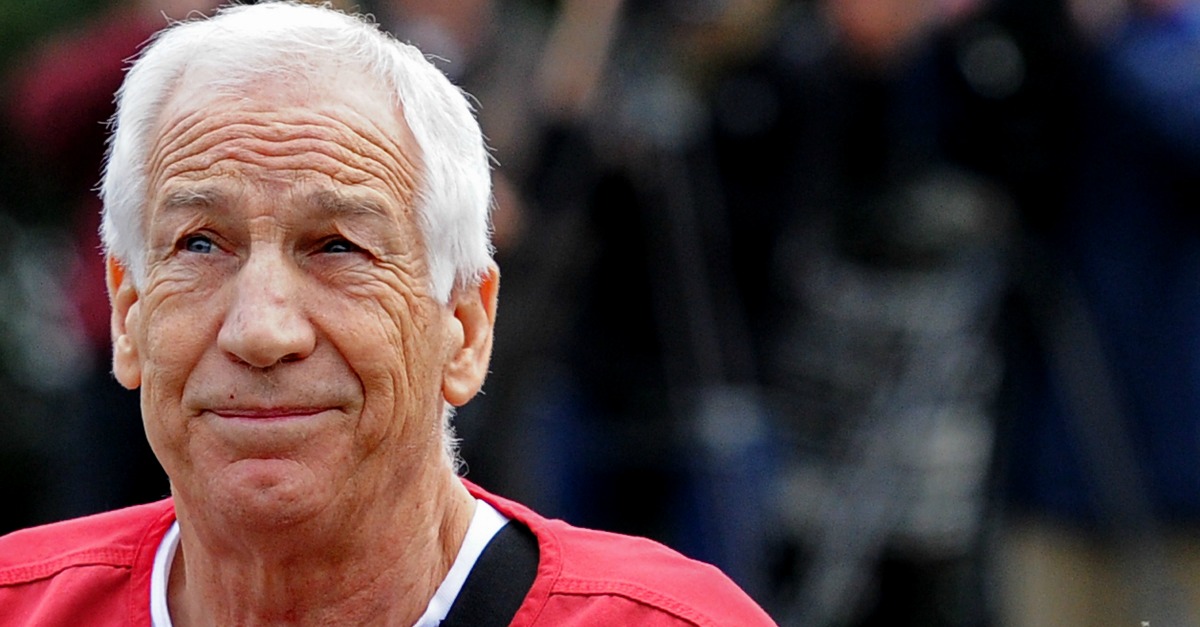 Patrick Smith Getty Images
The fallout from the Jerry Sandusky sex scandal continues at Penn State.
Three former top administrators have been sentenced to a combination of jail and house arrest, and ordered to pay fines, for failing to alert authorities about an allegation against former assistant coach Jerry Sandusky. The three men were accused of knowing about, but keeping quiet, a 2001 allegation that Sandusky was sexually abusing a boy in a football team shower.
The judge in the case had harsh words for the former administrators.
RELATED: Jerry Sandusky's adopted son arrested in child sex scandal
"Why Mr. Sandusky was allowed to continue to the Penn State facilities is beyond me," Judge John Boccabella said, as quoted by the Chicago Tribune. "All three ignored the opportunity to put an end to (Sandusky's) crimes when they had a chance to do so," the judge said.
The men convicted, and their sentences, were:
Former president Graham Spanier, 68, sentenced to 4 to 12 months, with the first two months spent in jail and the rest under house arrest. He'l pay a $7,500 fine.
Former university athletic director Tim Curley, 63, sentenced of 7 to 23 months, with three in jail. He'll pay a $5,000 fine.
Former vice president Gary Schultz, 67, sentenced to 6 to 23 months, with two months in jail. He'll pay a $5,000 fine.
The judge also ripped former head coach Joe Paterno, the Penn State and college football legend whose reputation has been forever tarnished by the scandal. Paterno also knew of the allegation but failed to report it to the proper authorities (he did report it to university officials). Paterno was fired in 2011 over the handling of the allegation, and then died in 2012, just as the scandal was reaching its zenith.
Paterno "could have made that phone call without so much as getting his hands dirty. Why he didn't is beyond me," Boccabella said.
All three administrators apologized before the court.
The Sandusky scandal erupted in 2011 when he was arrested following allegations he molested young boys. Police investigated a report as far back as 1998. In 2000, a PSU janitor told his boss he saw Sandusky abusing a boy in the shower, and in 2001, a graduate assistant told Paterno he also saw Sandusky abuse a 10-year-old boy in the shower. It wasn't until 2008 — when a principal reported Sandusky for abusing a young boy — that the now former Penn State coach was investigated, He was found guilty on 45 different counts in 2012 and is serving a 30-60 year prison sentence.
Additionally, in 2012, the NCAA fined Penn State $60 million, banned the team from post-season competition for four years and reduced scholarships by 20. The NCAA rescinded the post season ban and scholarship reduction in 2014.