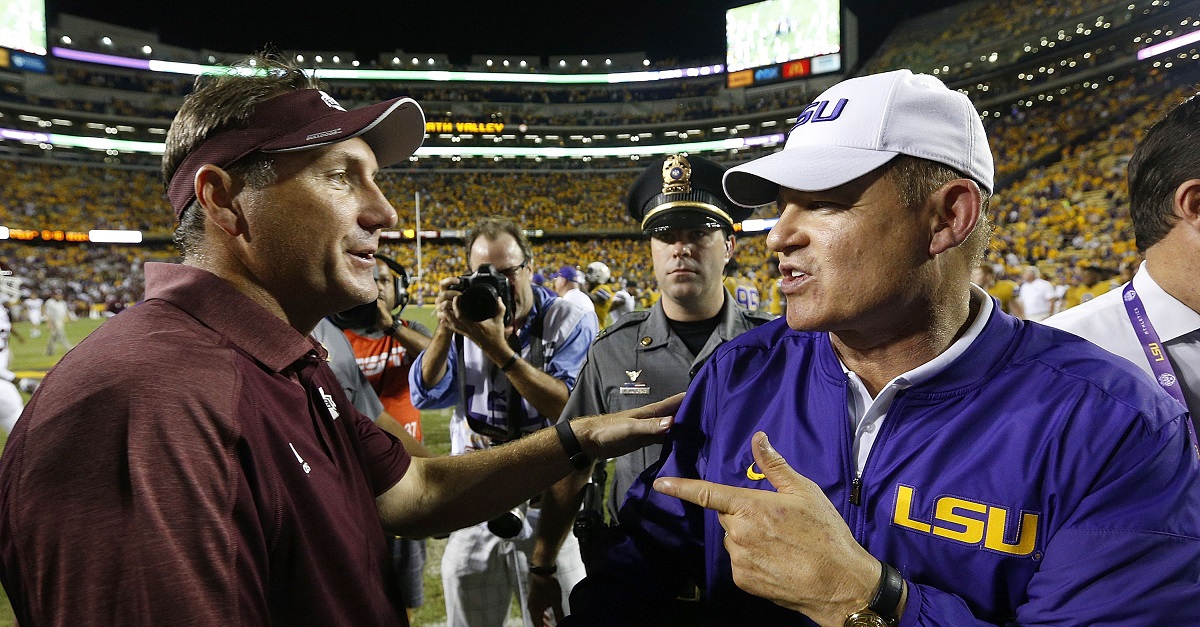 Jonathan Bachman/Getty Images
BATON ROUGE, LA - SEPTEMBER 17: Head coach Les Miles of the LSU Tigers and head coach Dan Mullen of the Mississippi State Bulldogs greeat after a game at Tiger Stadium on September 17, 2016 in Baton Rouge, Louisiana. LSU won 23-20. (Photo by Jonathan Bachman/Getty Images)
LSU fired Les Miles on Sunday, and the immediate thoughts were about who the Tigers would get to replace him.
Miles still has something to give to football, though, even with the flaws that wound up at LSU. Miles has said that he would still like to coach, and some team will inevitably check in and try to add a "national champion" coach to their staff. But who will it be? We list three potential options below.
1. Penn State
Current coach James Franklin is only in his third year with Penn State, but it appears the Nittany Lions aren't exactly happy with two 7-6 seasons and a 2-2 start this year. Franklin did a great job at Vanderbilt, but progress hasn't come as quickly at Penn State.
The Big Ten makes sense as a destination for Miles thanks to his coaching style and with his history at Michigan. If the Penn State job does indeed open up, it wouldn't be a shocker to see Penn State try and throw some money towards Miles.
2. Dallas Cowboys
Here's the thing about Miles: with his somewhat waning performance at LSU, he may not be a hot commodity for the top jobs in the country. With Miles already being 62, a team like USC or Notre Dame might be hesitant to throw money at him.
Where would Miles work really well? As a positional coach. Miles worked with the Cowboys several years ago, and it would definitely would be a Jerry Jones-style move to try and add Miles back to his staff. Miles could also get paid a lot of money to have less responsibilities than he would have as a college head coach.
3. Michigan
This falls into a similar category as the Cowboys. With Jim Harbaugh in tow, Miles isn't making his triumphant return to Michigan as the head coach, but he could still be a valuable asset to Wolverines.
Harbaugh has already said he "can't wait" to talk to Miles, and it makes sense that Harbaugh might want to bring him in as a line coach or an analyst. It definitely wouldn't hurt Michigan to add a coach like Miles to the staff.