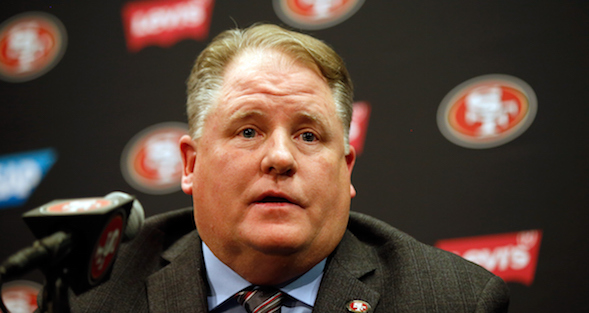 Ezra Shaw/Getty Images
SANTA CLARA, CA - JANUARY 20: Chip Kelly speaks to the media during a press conference where he announced as the new head coach of the San Francisco 49ers at Levi's Stadium on January 20, 2016 in Santa Clara, California. (Photo by Ezra Shaw/Getty Images)
According to CBS, Chip Kelly could be on his way out as the San Francisco 49ers head coach in order to attempt a return to college football.
Kelly was one of college football's top coaches when he was at Oregon, and he would immediately become one of the hottest candidates in this year's coaching search were he to become available. With that in mind, we list three (realistic) teams that should make Kelly their top priority if they make a coaching change.
1. Oregon
The obvious choice will be for Kelly to go back to his old school. Kelly is the one who helped transform Oregon into a national power, but the program has had declining success since Kelly's offensive coordinator, Mark Helfrich, took over the head job.
Considering that the fans have soured on Helfrich as a head coach, being able to get Kelly back would be a huge coup for Oregon. The Ducks also have the caveat of being able to offer $TEXAS — or would it be $NIKE in this scenario — thanks to the more than generous donations of Nike co-founder Phil Knight.
2. USC
Here's the unbelievable thing about the USC job: Kelly was reportedly interested in the job after they fired Steve Sarkisian in the middle of last season, but the Trojans opted to stick with interim coach Clay Helton instead. Helton has started to right the ship after a 1-3 start to the season, but the Trojans still have some difficult games left on the schedule; missing a bowl game is still possible.
USC has a stronger tradition than Oregon, so that might even make them a stronger landing spot than the Ducks. However, while USC does have the money, can they really afford to be paying Sarkisian, Helton, AND Kelly on top of that? That is going to be a big price to pay considering the money that Kelly would be able to command on the college coaching market.
3. Houston
Now here is a very interesting scenario: if Tom Herman does indeed leave Houston, it will leave a very good situation for the next head coach in what will be a very relaxed environment compared to the Power 5 competitiveness of an Oregon or USC.
Money might not be an issue for Houston, either. The Cougars are already willing to give Herman another raise on top of his current $3 million salary, and they would be due at least a $2.5 million buyout if Herman does leave for another job.
If USC and Oregon don't open up, but Houston does thanks to Herman leaving for a school like Texas or LSU… then who takes over at Houston could be very interesting to watch.