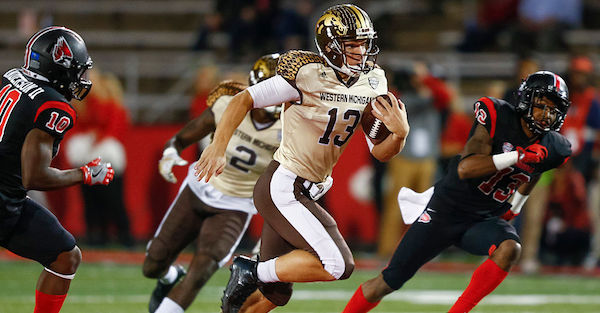 Michael Hickey/Getty Images
MUNCIE, IN - NOVEMBER 01: Tom Flacco #13 of the Western Michigan Broncos runs the ball during the game against the Ball State Cardinals at Scheumann Stadium on November 1, 2016 in Muncie, Indiana. (Photo by Michael Hickey/Getty Images)
Tom Flacco was projected to be the starting quarterback at Western Michigan after the departure of Zach Terrell, but the younger brother of Joe Flacco is transferring from the Broncos.
Related: Former 4-star and USC OT transferring to stunning school in the SEC
Flacco appeared in 13 games in a limited role as Terrell's backup over the last two years, and he threw for two touchdowns as a freshman in 2015.
He has two years of eligibility remaining, and he was given a full release from the school with no restrictions. The Detroit News reported that Flacco could look to go east since he is originally from New Jersey.
Western Michigan is coming off of a 12-0 regular season, but they have to replace Terrell, wide receiver Corey Davis?who was a first-round draft pick?and head coach P.J. Fleck, who took the head coaching job at Minnesota.
If Flacco doesn't go back to New Jersey, he could potentially land at Minnesota to rejoin Fleck. Or he could possibly transfer to Delaware, where Joe Flacco was a star QB last decade.
(h/t Yahoo Sports)