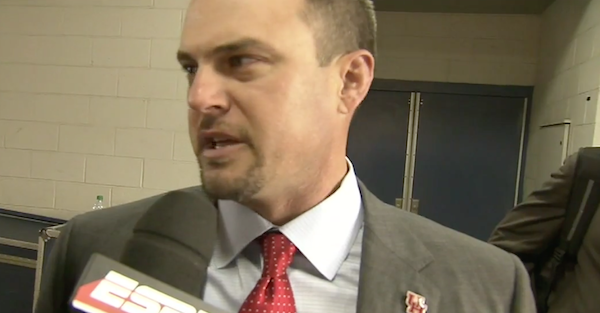 Clippit screenshot
News broke that LSU was closing in on a deal with Houston head coach Tom Herman late Thursday night.
According to LSU's athletic director, and now Herman himself, those rumors shouldn't be believed.
Here's what he said on a SportsCenter spot Friday morning.
"Don't believe anything you read."
When asked if Herman could confirm that the rumors were false, he chirped back, "Absolutely, sure."
Herman was then asked how he would handle the potential news of a coaching change, and he responded noting, "There's nothing to handle but beating Memphis."
The latest report came days after it was noted that Jimbo Fisher had been extended a "substantial offer" from LSU. CBS Sports noted a deal could be in place as of Saturday, but did not specify if that deal would be for Herman, Fisher or another coaching candidate.
Houston has reportedly offered Herman a massive raise in response to the latest departure rumors:
LSU is shifting its focus with whatever new hire the Tigers go after, heading in a more offensively-minded direction.
Herman would also fit that bill if he lands the LSU gig. Orgeron would be expected to bring in a proven offensive coordinator with a track record of developing quarterbacks if he lands with the Tigers.