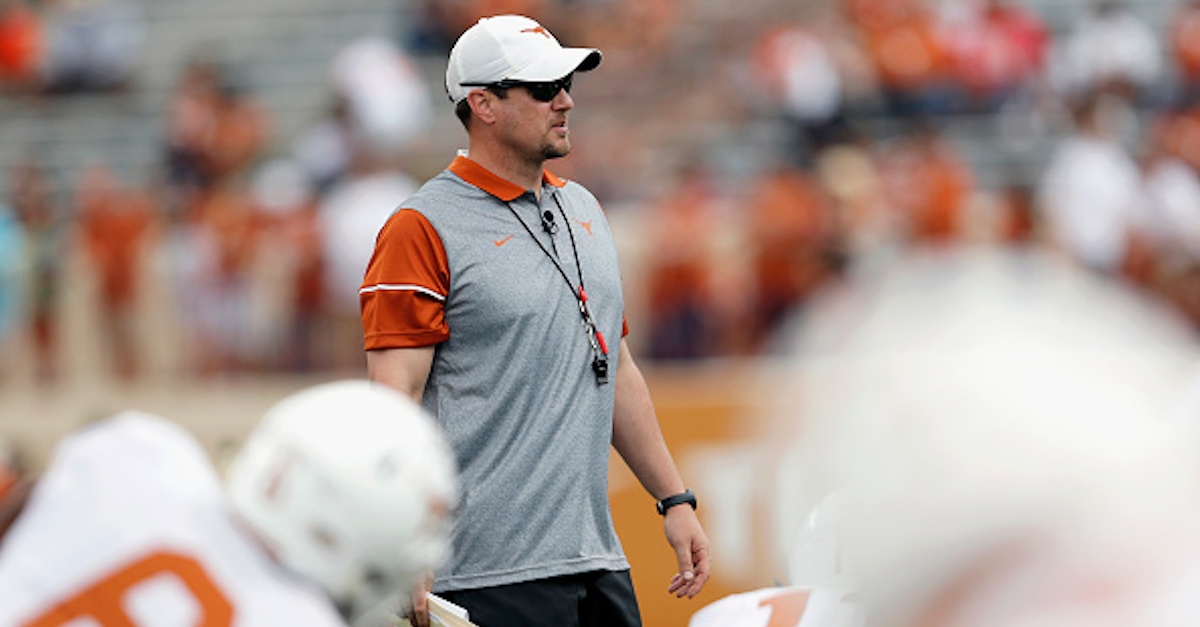 Tim Warner/Getty Images
AUSTIN, TX - APRIL 15: Head coach Tom Herman of the Texas Longhorns watches the team stretch before the Orange-White Spring Game at Darrell K Royal-Texas Memorial Stadium on April 15, 2017 in Austin, Texas. (Photo by Tim Warner/Getty Images)
The Texas Longhorns still haven't named a starting quarterback, but for all intents and purposes, incumbent starter Shane Buechele is going to be the guy.
That's not set in stone because it's worth noting that head coach Tom Herman is still looking at the quarterback position as a competition, but he did relay to Chuck Carton of the Dallas Morning News that Buechele is getting most of the first team snaps.
That puts Buechele's competition, true freshman Sam Ehlinger, in somewhat of a tough spot just weeks before the 2017 season officially kicks off, and that's something Herman admitted to. Still, he hasn't officially closed the door on the competition.
Here's what he had to say, per Carlton.
Asked if Ehlinger could still win the starting spot, Herman said: "Realistically, yeah. He's got an uphill battle because he's not getting as many reps with the 1's, but we still look at it as a competition."
In reality, Herman is engaging in a bit of coach speak here. He likely knows that Buechele is going to be the starter. In fact, at this point, it's a darn near certainty. Texas kicks off the 2017 season against the Maryland Terrapins in less than a month, and any head coach worth his salt normally knows who his starting quarterback will be well at this point — especially if said quarterback is a returning starter.
All Herman is trying to do here is keep Buechele hungry and focused in the lead up to the 2017 season.
That doesn't mean Ehlinger doesn't have potential, because he sure does, but if he's not in the driver's seat at this point of the process, he's likely destined to be the backup.
And it makes sense because, for all intents and purposes, Buechele is the real deal.
The 2016 season saw him play in 12 games for the Longhorns, and he threw for 2,958 yards and 21 touchdowns while also rushing for 161 yards and two touchdowns. Yes, Buechele did throw 11 interceptions, but keep in mind it was his true freshman season. He should be even better in 2017 considering he'll be one season older and wiser.
Buechele is a former four-star dual-threat quarterback, ranked as the No. 4 overall player at that position in the 2016 class. Ironically, the same recruiting stats apply to Ehlinger, at least according to 247Sports, though he was part of Texas' 2017 class.