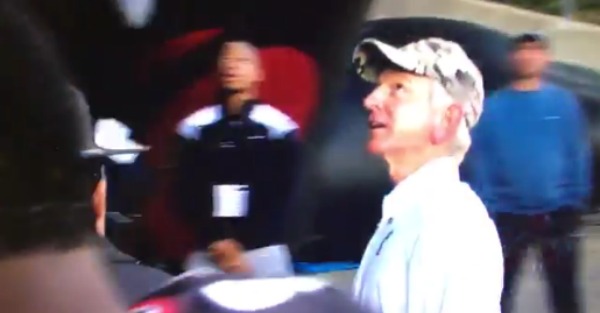 Twitter screen shot
Tommy Tuberville's Cincinnati Bearcats have struggled to stay afloat this season.
And after the team lost its second straight, and fourth in five games, to BYU Saturday, Tuberville lost his composure and snapped at a fan who was shouting insults at him as he walked off the field after the game.
The heckler—more than likely a frustrated Cincinnati fan—reportedly pleaded with him to retire. And Tuberville was clearly in no mood for shenanigans.
"Hey, go to hell!" he yelled at the fan. "Get a job. Get a job."
Tuberville took to Twitter Monday and apologized for the incident.
Tuberville's four years with the program have been a mixed bag. He's gone 29-19 and led the Bearcats to bowl games in each of his first three seasons, but they've been on the losing end of all three. And at 4-5 and 1-5 in the AAC, that postseason streak is now in jeopardy.