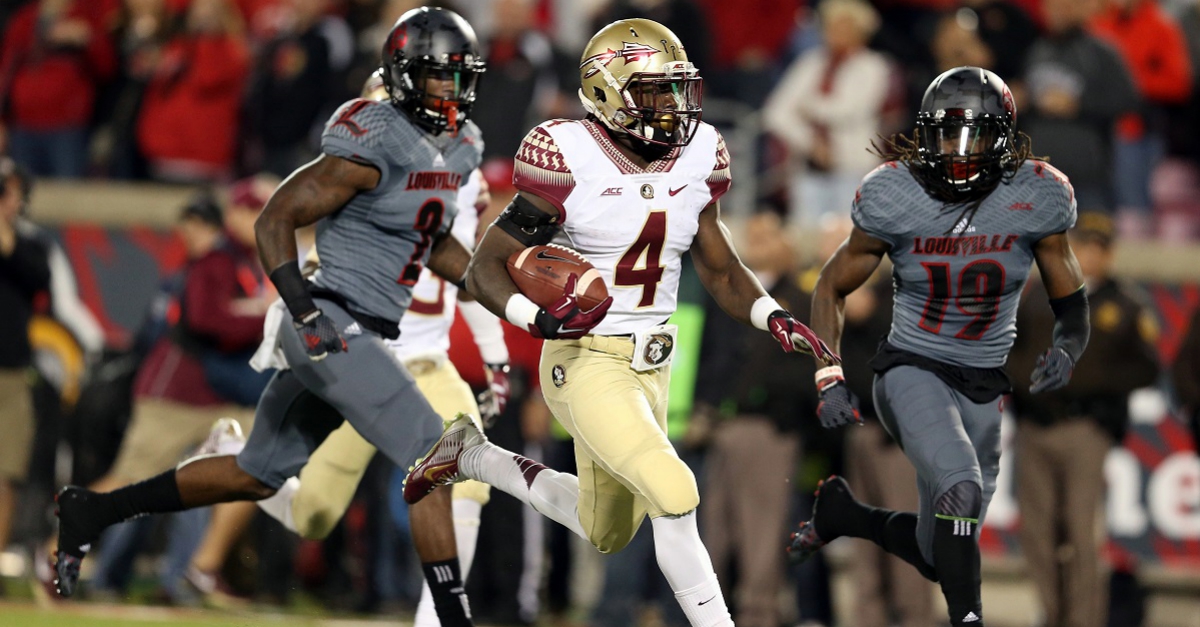 LOUISVILLE, KY - OCTOBER 30: Dalvin Cook #4 of the Florida State Seminoles runs the ball in the second half against the Louisville Cardinals during their game at Papa John's Cardinal Stadium on October 30, 2014 in Louisville, Kentucky. (Photo by Andy Lyons/Getty Images)
Earlier in the week, attorneys for Florida State running back Dalvin Cook filed a demand for a speedy trial in an attempt to expedite the legal process before the start of the season. It appears that demand has been met.
According to Joe Schad, the trial date for Cook has been set for August 24, with jury selection beginning on August 21. This comes after the arraignment date for Cook was originally moved from July 30 to September 2 in a move that Cook's attorneys believed was done to try and force a plea deal. Cook was charged with a misdemeanor battery last month for allegedly punching a woman several times in the face outside of a Tallahassee bar.
Cook has not practiced with the team since being indefinitely suspended on July 11. With the new trial date set, there is now a two week window between the start of Cook's trial and the start of Florida State's season on September 5 against Texas State.
There is still a chance that this will still be going on by the start of Florida State's season, but the odds just increased of this all being resolved by September 5. Cook was a big part of Florida State's offense last year, playing in 13 games and rushing for 1,008 yards as a freshman.