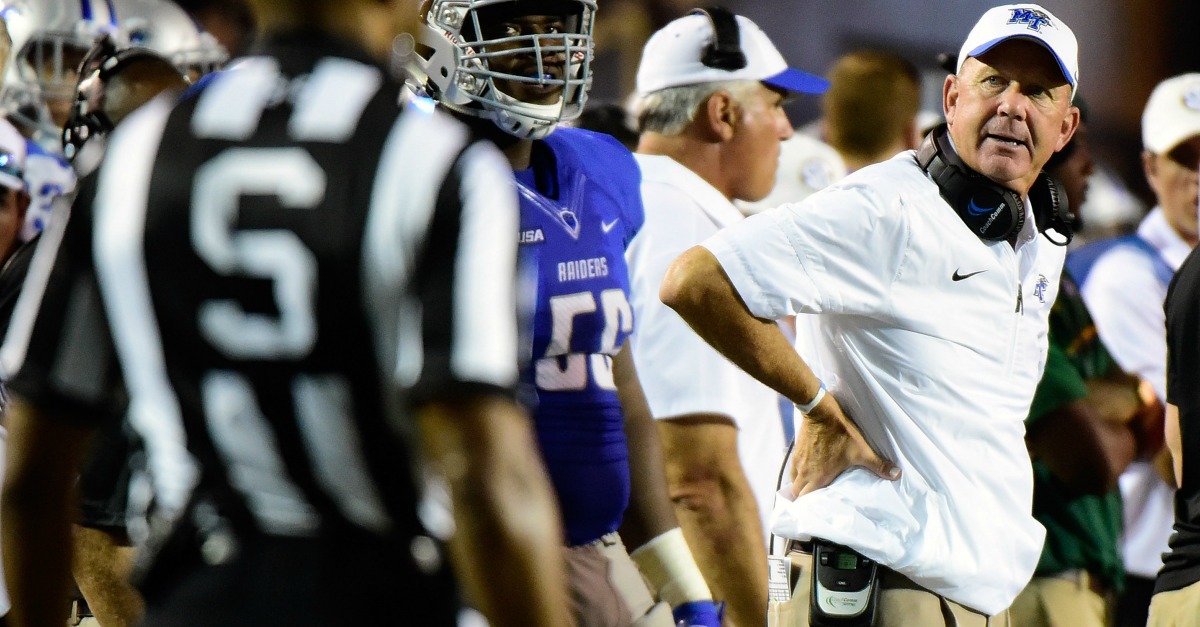 Frederick Breedon Getty Images
Frederick Breedon / Getty
WSMV Channel 4
Two Middle Tennessee State football players have been suspended as police investigate the pair in an animal cruelty case.
On a Snapchat video, you see a man yanking a puppy from under a bed and hitting it at least five times, and so hard the little dog cries out.
Defensive lineman Justin Akins and linebacker Shalom Alvarez have both been suspended. WSMV-TV reported that the video was posted on Adkins' SnapChat account, and that Alvarez was the man who struck the puppy.
MTSU head coach Rick Stockstill issued a statement to WSMV that said:
I am aware of the situation and have talked to the players involved. The players explained to me that the puppy urinated inside and they were simply spanking it as a form of discipline. They told me there was never any intent to harm the dog. This was an important teaching moment. I talked to them about other approaches that should have been considered in this situation. And I pointed out how disciplining a pet in such a manner could be misconstrued, especially with the impact of social media.
At the time of the statement, both players remained on the team. WSMV posted its first story at 10:05 p.m. Tuesday and updated it at 7:05 a.m. Wednesday, according to the time stamps on its website. But Athletics Director Chris Massaro seemed far more disturbed. In an Associated Press story that moved at 4:49 p.m. Wednesday afternoon, he called the incident "disturbing," and said Stockstill has suspended the players.
Adkins is a redshirt senior, and Alvarez a redshirt sophomore.