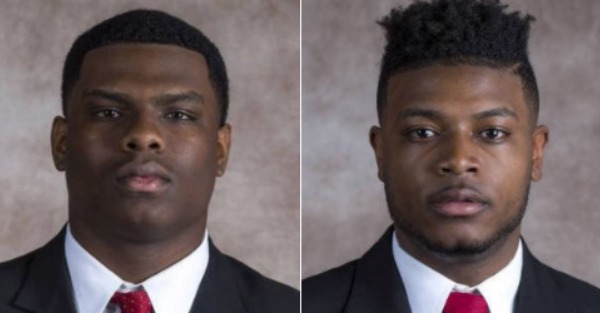 College Football Plus via Twitter
Two Nebraska Huskers football players have been charged with possessing marijuana.
According to the Omaha World, the two football players — wide receiver Stanley Morgan and safety Antonio Reed — and an unidentified woman were driving in Port Orange, Fl., when they were pulled over by police during a traffic stop. The officer, in an affidavit, said he smelled marijuana, searched the car, and found back packs that contained marijuana.
Reed, according to Volusia County (Fl.) Clerk of Circuity Court records, has been charged with one count of possession of canabis and one count of possession of drug paraphernalia. Morgan was charged with possession of canabis. All of the charges are misdemeanors. Reed is scheduled to be arraigned on June 1, and Morgan as a pre-trial hearing scheduled for June 6.
Last season, Morgan appeared in all 13 games, made nine starts, and had 33 receptions for 453 yards. His Nebraska bio says the 6-foot-1, 200 pounder is looking to be the team's "go-to receiver."
Reed, at 6-foot-2, and 200 pounds, appeared in 12 games last season, with a total of 22 tackles.
The Nebraska Athletic Department had no comment, according to the World.