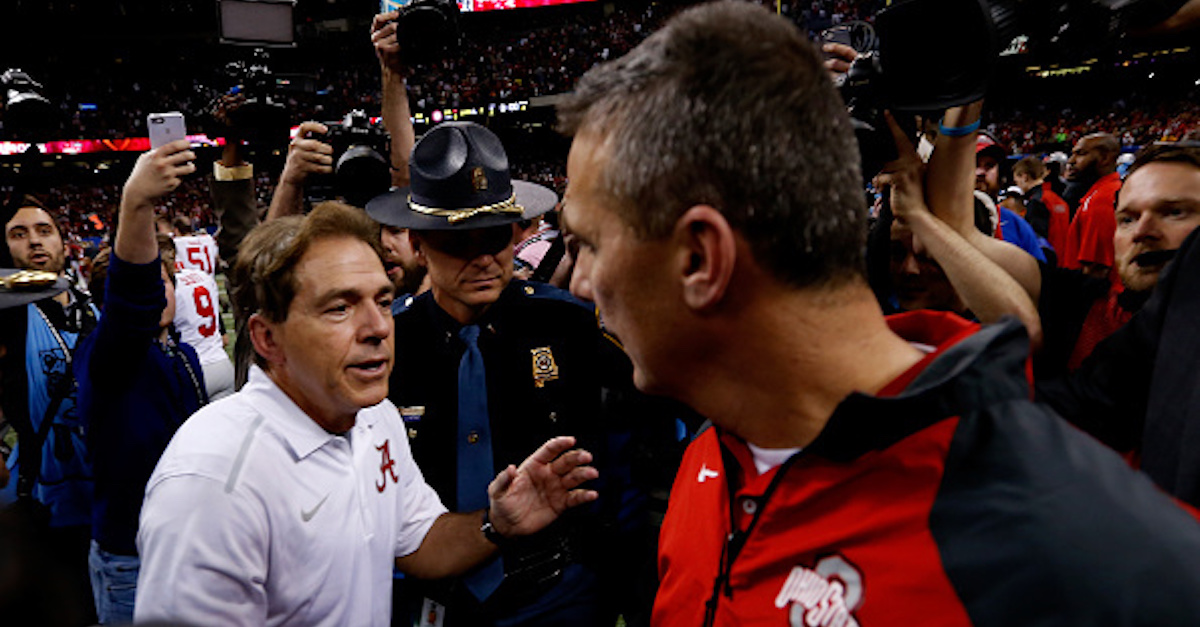 Sean Gardner/Getty Images
NEW ORLEANS, LA - JANUARY 01: Head coach Urban Meyer (R) of the Ohio State Buckeyes shakes hands with head coach Nick Saban (L) of the Alabama Crimson Tide after the All State Sugar Bowl at the Mercedes-Benz Superdome on January 1, 2015 in New Orleans, Louisiana. The Ohio State Buckeyes defeated the Alabama Crimson Tide 42 to 35. (Photo by Sean Gardner/Getty Images)
Urban Meyer is the type of coach with just one goal in mind and that's a national championship.
He has a recent title win under his belt — the Buckeyes won the first ever College Football Playoffs in 2014 — and he won two BCS Championships while with the Florida Gators. He's one of the most accomplished coaches in college football and what he's building at Ohio State has the opportunity to match the results he found down at Florida.
Still, Meyer realizes that his OSU program hasn't reached the apex just yet. In fact, he realizes that the program that has is the one his team beat in 2014 in the CFP semifinals, Alabama.
Meyer was recently asked to compare his Buckeyes to the Crimson Tide. Nick Saban's Alabama dynasty is arguably one of the best in sports, let alone college football. Alabama has won four championships since 2009, including two in a row in 2011 and 2012 and one in 2015. In fact, the Crimson Tide almost won two in a row again this past season, but they were narrowly bested by the Clemson Tigers in this past national championship game.
Without a doubt, Alabama is the cream of the crop and Meyer seems to agree with that. In fact, he thinks every college football program in the country should view the Tide as the golden standard of success.
Here's what he said, per Mark Heim of AL.com:
"I'm very pleased," Meyer explained, "when you start with Alabama, I think every school in the country would say that. It's a very consistent model. I'd like to think after five years we're one of those programs that people look at for consistency. We haven't won enough championships, et cetera, but we're consistently in the conversation, in the hunt in November. That's our goal. Ohio State should be.
Meyer is undoubtedly a proud man and he has plenty to be proud about regarding Ohio State. He also has plenty to be excited about, because the Buckeyes very well could win the Big Ten and make another run at the CFP in 2017.
With that in mind, it takes some humility to admit that there's another program out there that's carrying the standard in college football, but frankly, the proof is in the pudding.
Find a college football program that wouldn't trade spots with Alabama.
We'll wait.