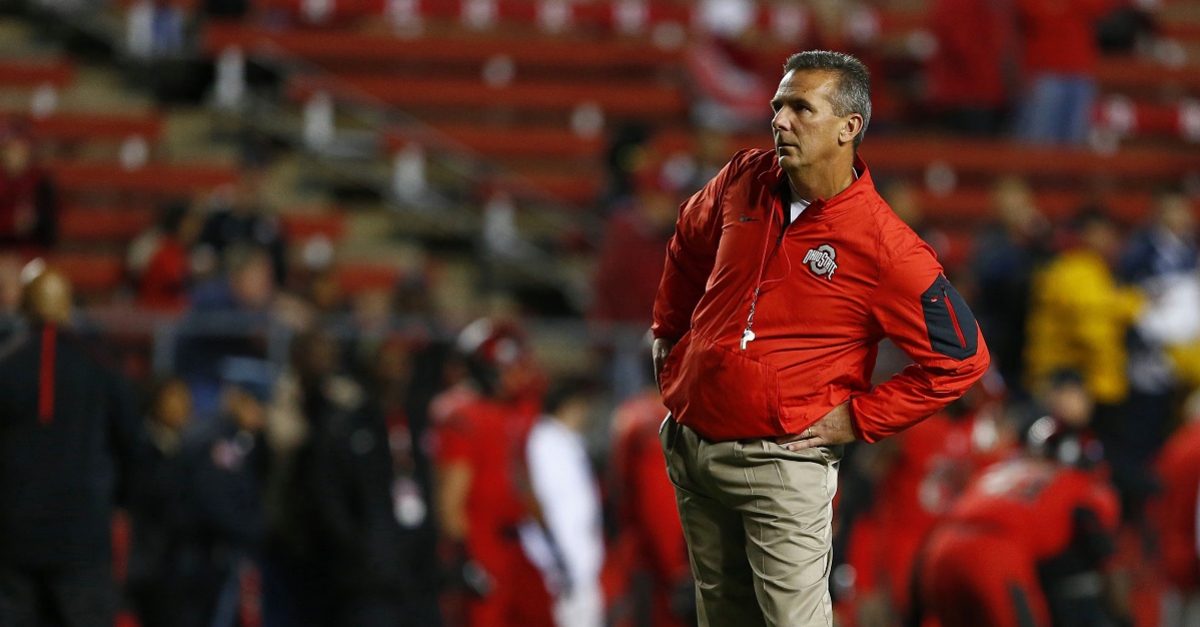 Rich Schultz/Getty Images
PISCATAWAY, NJ - OCTOBER 24: Head coach Urban Meyer of the Ohio State Buckeyes during warmups before a game against the Rutgers Scarlet Knights at High Point Solutions Stadium on October 24, 2015 in Piscataway, New Jersey. (Photo by Rich Schultz /Getty Images)
Tom Herman's tenure at Texas has gotten off to a rocky start with a 51-41 loss to Maryland to open the season. He made excuses after the game and said, "If we all thought that we were going to come in here and in nine months sprinkle some fairy dust on this team and think that we've arrived then we're wrong."
His former boss in Urban Meyer took notice and completely lit up Herman for his comments.
"C'mon man. I don't know where that came from," Meyer told CBS Sports. "It's like a new generation of excuse. [Herman] said, 'I can't rub pixie dust on this thing.' He got a dose of reality. Maryland just scored 51 points on you."
That wasn't the only coach he went after though as Meyer took a shot at Will Muschamp. The former Florida and current South Carolina coach complained about a lack of talent at Florida when he arrived right after Meyer and made it sound like the cupboard was left bare talent-wise. Meyer was not happy about that and compared it to when he took over after Jim Tressel left Ohio State.
"That's like, when I got here, everybody wanted me to say Jim Tressel left the cupboard bare. If I heard any assistant coach [say that], they'd be gone. You're done.

"Those are your players. I hear TV guys [say], 'Wait until they get their own players in there.' They're our players. What do you mean 'their players?' The minute you sign a contract, they're your players."
Those guys Muschamp didn't feel were all that talented ended up getting drafted in the NFL as well. Running back Chris Rainey was drafted in the fifth round while RB Jeff Demps was signed by a team and seven of the defensive guys Meyer had brought in went drafted as well from 2011 to 2013. They helped Muschamp get to a SEC Championship Game in 2012. Meanwhile, the team went a combined 10-13 the next two years after Muschamp had a chance to get "his guys."
To compare, Meyer went 12-0 in his first year at Ohio State with mostly Tressel-recruited guys — but didn't see a bowl game because of postseason ban at the time — and 12-2 the next season. He then won a national title in 2014 with a combination of his and Tressel's recruited players. He's been to the College Football Playoff one other time and has been in a New Year's Six Bowl every year he was eligible.
[h/t The Spun]