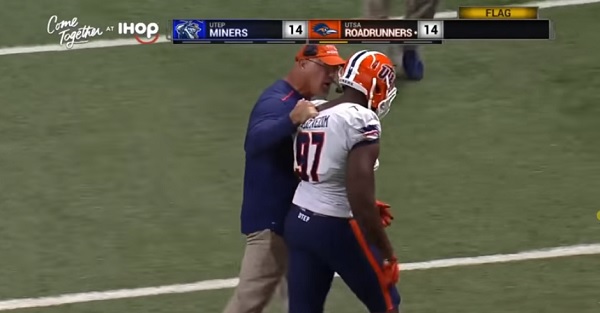 YouTube/Screenshot
Considering the emphasis on player safety today, you would think a late hit like this would result in an ejection…
But it didn't.
UT-El Paso played UT-San Antonio on Saturday, and one of the major plays of the game came just before the end of the first half. On a play in the redzone, UTSA suffered a false start that was called after the ball had already been snapped. Apparently UTEP defensive end Brian Madunezim didn't hear the whistle, as he went and laid a cheap shot on the quarterback after everyone else had already stopped play.
Naturally, the late hit nearly started a brawl, as UTSA players rushed into to protect their quarterback. Madunezim was completely chewed out by his head coach on the sideline, but the more mystifying call came when the refs only ruled a personal foul and not an ejection on the play.
RELATED: MSU player gets ejected for targeting, but that's not the worst part
I'm all for players giving it their all out on the field, but when everyone else out there stopped on the whistle, it's hard to claim that you didn't hear it. It is pretty shocking that Madunezim didn't get ejected on the play, especially when you consider how upset his own coach was at his actions.
I mean, his own coach grabbed him by the collar and pushed him to the sideline! You don't see that every day anymore.
With all of the borderline targeting calls that we see result in ejections, it's amazing that such a blatant cheap shot didn't result in one here, too.