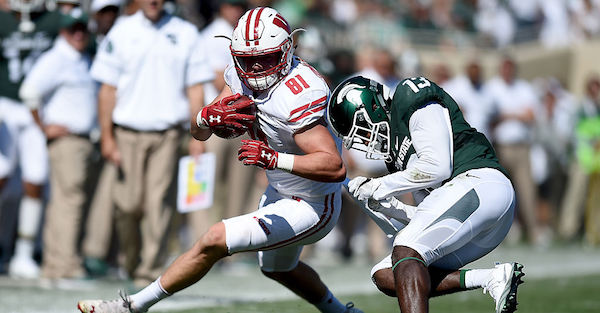 Bobby Ellis/Getty Images
EAST LANSING, MI - SEPTEMBER 24: Troy Fumagalli #81 of the Wisconsin Badgers is tackled by Vayante Copeland #13 of the Michigan State Spartans after making a catch in the game between the Spartans and Badgers at Spartan Stadium on September 24, 2016 in East Lansing, Michigan. (Photo by Bobby Ellis/Getty Images)
When Michigan State coach Mark Dantonio handed out updated rosters to reporters, there was one glaring omission.
Vayante Copeland, who was expected to be the top cover corner in the fall for the Spartans, wasn't listed on the roster. Dantonio didn't reveal much detail on why Copeland is no longer with the team.
"There?s certain things you?ve got to be able to make as you process yourself through from junior to senior and things of that nature," Dantonio said, according to Land of 10. "We wish Vayante the best, but he?s not going to be able to be here."
Related: Former Miami QB Jack Allison announces transfer decision after having two peculiar finalists
Dantonio said Copeland wasn't thrown off the team, and his "hands are tied" on his dismissal.
Copeland was charged with misdemeanor possession of marijuana in 2015, and the Detroit Free Press reported in April that Copeland was given a third chance to enter a court-sponsored diversionary program.
Copeland's absence is a bad sign for the Spartans, who are coming off of a 3-9 season?the worst in Dantonio's tenure.
Copeland recorded 43 total tackles and two interceptions in two seasons with the team. He suffered a broken foot in 2016 that cut his season short.
(h/t Land of 10)