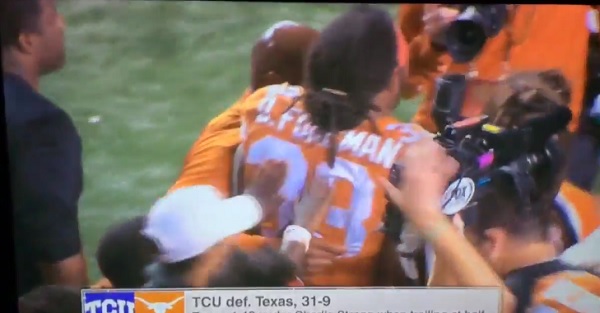 Twitter/Screenshot
It looks like this may have been Charlie Strong's final action on the field as Texas's head football coach.
The Longhorns lost their final game of the season 31-9 to TCU on Friday in what figures to be the final straw that leads to Strong's dismissal. Before Strong could get off the field, though, he had to help up his star running back D'Onta Foreman, who was clearly emotional about the loss.
Foreman, a Heisman Trophy candidate with over 2,000 yards rushing this season, did everything he could to try and get Strong and his teammates a win. Foreman rushed for 165 yards on 31 carries in the loss.
This is really the perfect representation of Strong's tenure at Texas. By all accounts, Strong is a good man and a good leader. However, he couldn't turn those qualities into wins for the Longhorns and it looks like that is going to cost him his job.