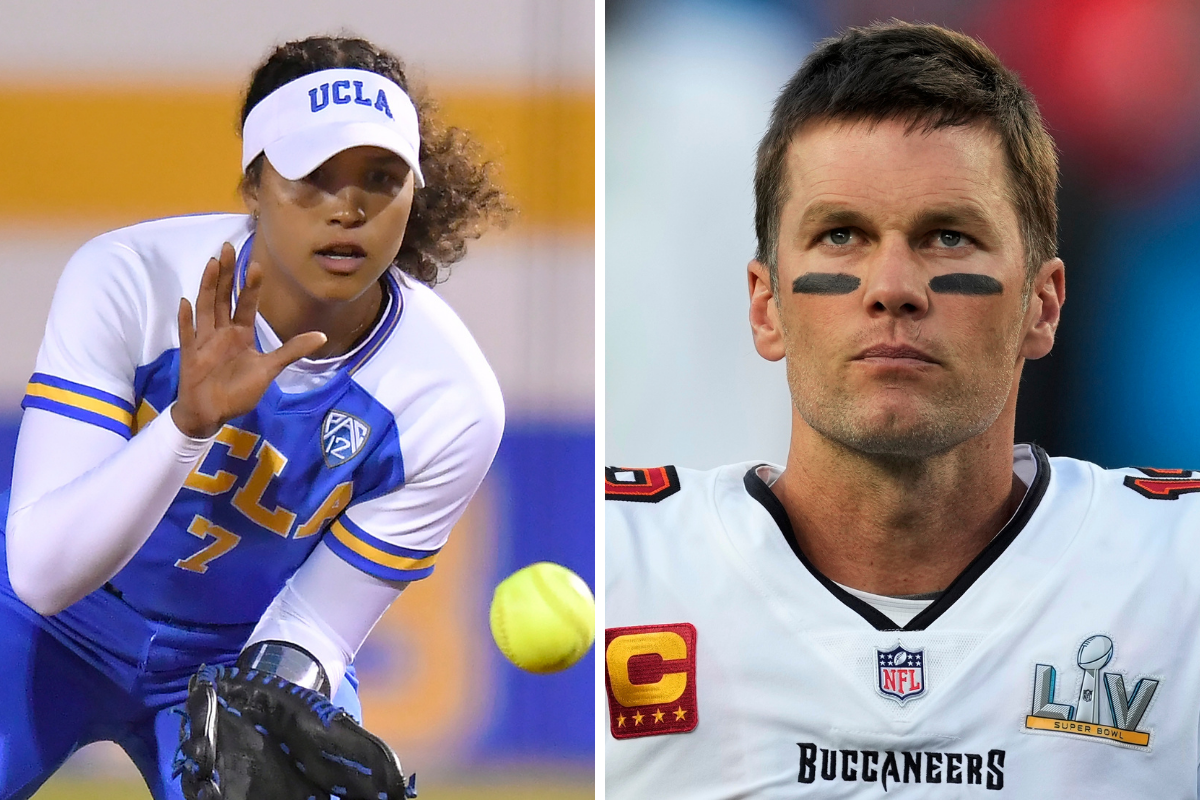 AP Photo/John McCoy (left), AP Photo/Chris O'Meara (right)
Former New England Patriot and current Tampa Bay Buccaneers quarterback Tom Brady is going to retire at some point as soon as he's bored of winning Super Bowls. He'll go down as the greatest NFL quarterback ever when that day comes. No. 12 has the rings, statistics and money to prove those points.
Brady's children aren't athletic prodigies quite yet, but there is someone in the Brady bloodline not wasting any time living up to her last name. Last season, she set the college softball world on fire because she couldn't stop hitting home runs for the UCLA Bruins, who enter the 2021 season the top-ranked team in the country.
Maya Brady is her name.
Tom Brady's niece may just have been a freshman at UCLA in 2020, but she's already proved she's better at her respective sport than her uncle was as a quarterback for the Michigan Wolverines in the 1990s.
Even Tom Brady knows he can't stack up against his niece.
"I think Maya is already the most athletic person of the family," he told the Boston Globe in 2019.
Tom Brady's Niece Maya Brady
RELATED: Tom Brady's Parents Have Been Married More Than 50 Years
Maya Brady certainly turned heads in her first season, despite it being canceled to the coronavirus pandemic and COVID-19 outbreak. The 5-foot-10 slugger crushed seven home runs and hit .356 with 25 RBIs while playing centerfield. She ranked among the NCAA's home run leaders and showed no signs of slowing down as she enters her sophomore campaign.
Take a look at the way the ball jumps off her bat in this grand slam she hit against the USF on Feb. 16:
Oh, and she arguably has a better arm than her uncle. Don't believe me? Play a round of dodgeball with her.
Maya Brady's Athletic Family
Maya's athletic gifts were passed down to her by her mother, Maureen Brady, who is one of Tom Brady's three older sisters. Maureen was a great athlete as well and earned All-American honors as a pitcher at Fresno State in 1994.
"Sports have been huge ever since I was little. I always remember competing all the time," Maya told Softball America. "She just really ingrained in me the love of the game. She always coached my teams when I was little. She's just always so supportive and always assuring that the love of the game is still in there."
Maya's championship-winning family doesn't stop with Super Bowls, though. Tom Brady's other sister Julie married former Red Sox third baseman and two-time World Series champion Kevin Youkilis. Surprisingly, though, her favorite athlete is Serena Williams for what she calls her "lion attitude."
Like her two uncles, Maya's future includes winning. She chose to play softball for the 2019 national championship UCLA Bruins because of their winning culture, tradition and atmosphere. UCLA won its 13th national championship in program history last year under head coach Kelly Inouye-Perez.
Despite playing high school softball just two years ago, the transition to the NCAA ranks has been a seamless one thus far.
She even took an Olympic softball pitcher deep last season when UCLA faced the USA Olympic Team in an exhibition on Feb. 23.
UCLA Softball's Rising Star
Maya was first walloping softballs at Oaks Christian High School in Thousand Oaks, California, where she played shortstop and hit .558 as a senior with 12 home runs and 32 RBIs.
She earned Marmonte League MVP and ALL-CIF Southern Selection honors on top of playing travel ball with the Orange County Batbusters. She finished her standout high school career with a .464 batting average and 25 home runs.
Her high school coach, Peter Ackermann, had trouble putting into words how talented Maya is before comparing her to two softball legends.
"The only reason my answer is taking so long is I've been coaching so long," he told the Los Angeles Times. "As far as shortstops Maya's caliber, there's Crystl Bustos and Jessica Mendoza."
By the time she had to pick a school, Maya was rated the No. 2 recruit in the nation by FloSoftball. She could've gone anywhere in the country, so she chose the team on top of the college softball world.
"UCLA was my dream school just because it's so close to where I live," Brady told Softball America. "My family is literally the most important thing to me. It's close enough for my grandparents to come to my games. It goes so much further than softball for me. Getting a UCLA degree, the family atmosphere that we have within the team and everyone is so bought in. You can just tell from the outside that everyone is always having a lot of fun."
Inouye-Perez knows she has a special softball player and a great teammate in Maya Brady. She remembers playing Maureen Brady in college, when she was known as a "cut-throat competitor." According to Inouye-Perez, Maya has that same edge but flashes a smile more often.
"She's a phenomenal athlete," the UCLA head coach told the Los Angeles Times. "Her leadership ability is off the charts. She's really special."
Just how good can Maya Brady be? If she's anything like Uncle Tommy, she may end up being one of the best to ever grace a diamond.