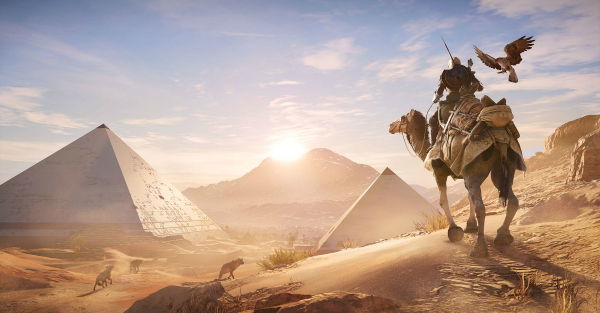 www.ubisoft.com/en-us/game/assassins-creed-origins/
Over the course of the last year, Assassin?s Creed has gone from one of the most talked-about franchises (for better or worse) to a conspicuously absent giant in the industry. This is because Ubisoft has been hard at work at turning the franchise in a new direction with Assassin?s Creed: Origins, an Egypt-set installment that follows the actions of one Bayek as he attempts to overthrow an oppressive government and return his people to freedom.
RELATED: New developer interview yields insight into Assassin?s Creed: Origins
Since the game?s world premier aired back in early June, the Assassin?s Creed franchise has once again been back at the forefront of everybody?s minds ? or, at the very least, it?s become an occasional topic on the Internet?s many gaming forums. There?s been a number of media releases since then, with both scripted and non-scripted gameplay trailers showing off some of primary changes the series has undergone in its time off. Though, while Ubisoft has succeeded at highlighting Origins? new innovations, there?s been precious little shown about the game?s actual narrative.
Until quite recently, anyway. Check out the new cinematic trailer for Assassin?s Creed: Origins below:
Set appropriately to Leonard Cohen?s ?You Want It Darker,? the trailer establishes a moody premise. A shadow has fallen across the usually sun-drenched realm of Ancient Egypt, as a number of powers have come together to wrest control of the region away from its people. It?s clear that both the Pharaohs and the Romans are involved and will, to some extent, be featured as the game?s antagonists and by extension Bayek?s primary targets. The video also offers up a summary of the game in its description:
?Journey into Ancient Egypt, the most mysterious place in history, during a crucial period that will shape the world. Discover the secrets behind the Great Pyramids, forgotten myths, the last pharaohs, and ? engraved in long-lost hieroglyphics ? the origin story of the Assassin?s Brotherhood.?
There?s also a list of features below that describe, among other things, quests with ?colorful characters and meaningful objectives? awaiting the player. This, at least, is expected; while the overarching narratives in the Assassin?s Creed franchise are often hit or miss, the supporting characters are usually one of the series? strongest aspects.
Assassin?s Creed: Origins is set to launch on October 27, 2017 on the PlayStation 4, Xbox One, and PC for $59.99. Players who pre-order the game will have access to an exclusive mission in which they can ?discover the secrets behind the construction of the first Pyramids.?