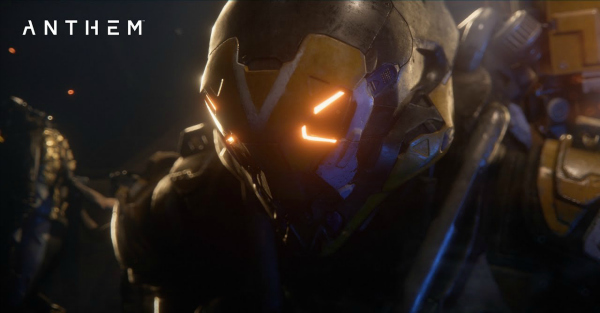 Anthem Game/YouTube
BioWare shook things up at last week?s E3 conferences when the studio revealed a teaser trailer for its new independent property, Anthem. Gameplay followed the very next day that showcased a vibrantly decorated wilderness overrun by a host of violent monsters, which players then explored and challenged cooperatively (with some rather artificial dialogue) in futuristic, protective suits of armor.
RELATED: BioWare?s new IP has the whole industry buzzing
All in all, Anthem looked too good to be true for those familiar with E3, where even ?in-engine gameplay? is very rarely indicative of how the final product will look. That, combined with the obviously scripted nature of the presentation, left many in the audience with a skeptical, if tentatively excited, outlook.
Not one to leave its fanbase in the dark, BioWare Edmonton general manager Aaryn Flynn revealed additional tidbits about Anthem in a recent interview with CBC. In a comment regarding the game?s narrative, Flynn stated that:
?It?s very much like Star Wars, very much like the Marvel Universe, where you see lots of amazing things happening, but we don?t worry too much about why they?re happening, or how they?re happening, the science of it. Mass Effect is more our real hardcore science fiction IP. This one is much more about just having fun in a game world that is lush and exotic and really sucks you in.?
It didn?t take long for this statement to shake up the studio?s fans. BioWare is well-known for its narrative-driven RPGs, most notably Star Wars: The Old Republic, Mass Effect, and Dragon Age ? all of which delivered a focus on stories over gameplay. Something about Flynn?s vague statements regarding the insignificant of the ?how,? and ?why,? concerned the studio?s longtime fans, who began discussions worrying aloud about this sudden shift in priorities.
Others claimed that this simply meant a less science-focused RPG than Mass Effect, which, while never too inundated with dry scientific explanations behind the series? tech, always offered explanations in Shepard?s Codex for those who sought them.
Anthem doesn?t launch until 2018, which means there will be plenty more time for future media releases and developer interviews. Until then, keep up to date by following BioWare?s official Twitter account, or by visiting the game?s website.