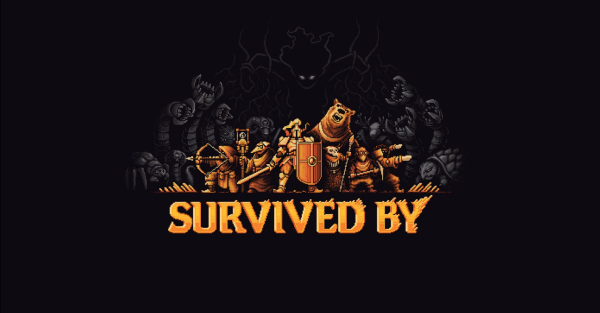 Survived By/YouTube
If there's a standard to free-to-play games, then it's probably been set by Digital Extremes. In 2013, the studio released Warframe, a sci-fi third-person shooter with parkour mechanics that today is still among the top 10 most-played games on Steam. Now, according to a recent YouTube trailer, the developers have officially started a new project. Check out the trailer for Survived By below:
The studio's press release goes into a bit more detail about the game. Survived By is described as a "retro-style" MMO in which up to 100 players can play simultaneously in a cooperative, "bullet-hell style battle." The game's namesake is derived from the manner in which a player's character is slain and then replaced by one of their descendants. You can see this in the above trailer as Zaann the II's quest is eventually overtaken by his Great (x9) Grandson, Zaan the XIII.
Players will be able to select one of six classes to play as (Alchemist, Harbinger, Infiltrator, Sentinel, Geomancer, and Druid), with more probably to come. Each class has its own unique abilities and stats, and as the player dies, some of these are carried on with their descendants.
Further information on Digital Extremes' website reveals a number of additional features:
Bullet Hell Ballistics: Players craft and wield increasing deadly weapons that can provide tactical options tailored to the character class they select. They'll arm themselves with a combination of magic, steel, and special abilities to fend off enemies while artfully skirting their damaging spray.

Gorgeous Pixel-Art World: Team up with friends and others to explore a huge beautifully rendered pixel-art world. Gear up and journey together with friends to crush enemies, raid dungeons, and trade items in a vast, diverse landscape with many in-game achievements and challenges, and hundreds of hours of gameplay.

Craft Weapons to Slay the Hordes: Players craft and wield powerful projectile weapons as they confront an array of Beasts (hostile and aggressive creatures), Infernals (fiery forces of indiscriminate destruction), Furies (invasive nightmares that corrupt anything they touch), Spirits (natural disasters made manifest), and more on their journey.
The developers also included a handful of screenshots. Take a look:
The Closed Alpha for Survived By will begin later in 2017. You can gain access to signing up on the game's official website and verifying your email. For more information, you can follow Digital Extremes on the studio's website, where new announcements about its projects are regularly released.